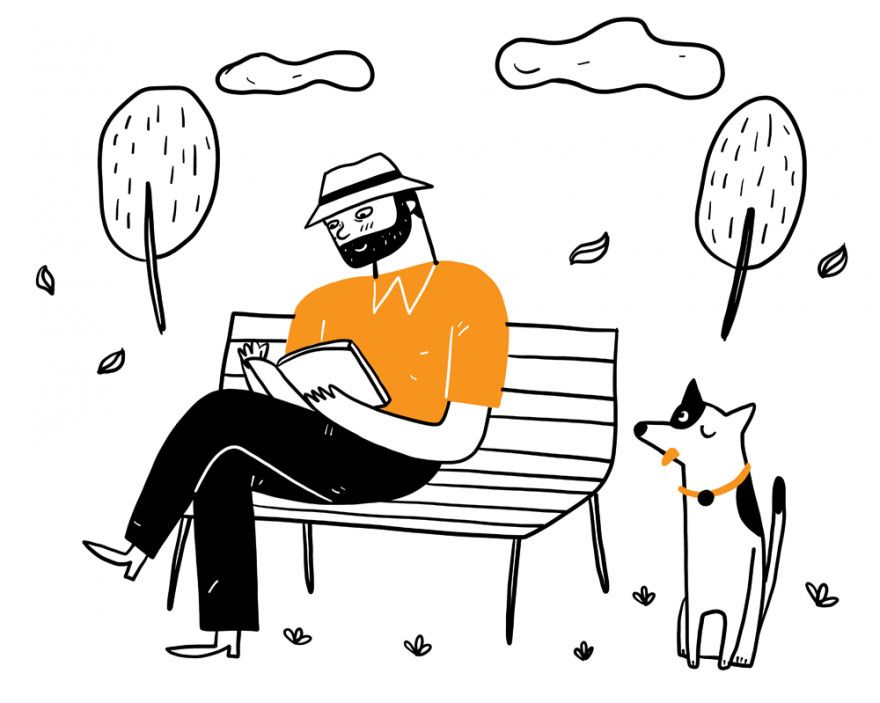 Learning German with stories is one of the most effective ways to increase your vocabulary and rapidly make sense of grammar in action. Don't believe me? There's actually some interesting brain research on how languages affect our cerebral pathways.
But finding easy German short stories to practice your reading skills can be daunting, especially when combing through websites that are all in German. What are good sources? Do they actually use good German? Are they error-free? Fear not! I've done the work for you.
In a previous post about simple German short stories for beginners I've showcased a handful of literary short stories, mostly from post-war times which are interesting enough but not too difficult for beginners. However, even these required a certain level of German to make sense of.
That's why, in today's post, I'd like to share a few stories with you that are even simpler and more accessible, so that even if you've just started out learning German, you can begin reading right away.

12 Fairytales in Easy German Language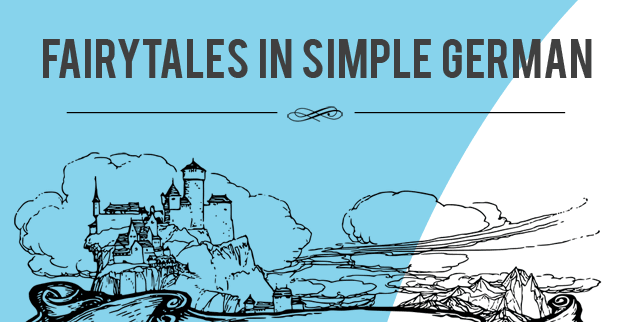 Who doesn't remember the classic fairy-tales by the Grimm brothers like Hänsel und Gretel, Rotkäppchen (Little Red Riding Hood) or Rapunzel? But if you've ever tried reading the original in German, you'll know that most versions of these stories (especially those found on free websites) are told in a very archaic and baroque German, which is not just hard but almost impossible to fathom for novice learners.
Luckily the simplified German portal of national broadcaster NDR has a number of German fairy-tales rewritten in Einfache Sprache (simple language), so even absolute beginners can enjoy these classic tales. Bonus: They all come with slow professional audio narration, so you don't have to puzzle over pronunciation.
Start reading (or listening) at ndr.de or select one of the following fairy-tales:
Nick, His Friends And A Photographer, by René Goscinny (And 2 Other Stories)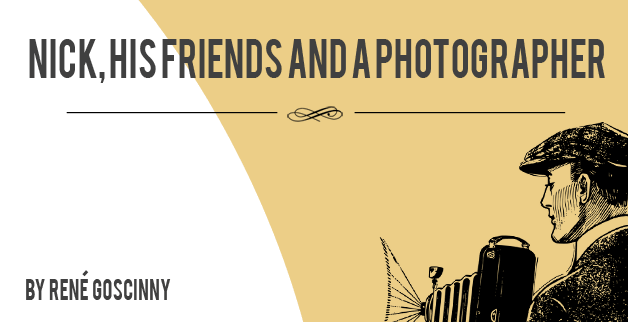 This story is told after a chapter from "Le petit Nicolas" by the popular French author Goscinny, world-renown for the Asterix stories. The authors of deutschalsfremdsprache.ch went to great lengths to retell the story using very simple but grammatically perfect German. This story even comes with a few basic text comprehension questions.

Read PDF via: deutschalsfremdsprache.ch
If you like this story, there are also two other chapters:
Tom Sawyer And The Garden Fence, by Mark Twain (And 7 Other Stories)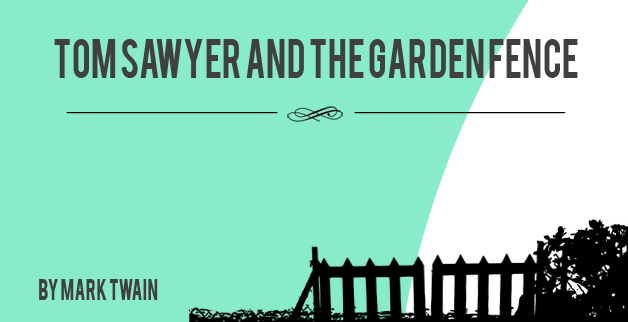 In this retelling of a chapter from Mark Twain's "The Adventures of Tom Sawyer", deutschalsfremdsprache.ch did a similar feat like with the above French story: keeping the original narrative and restructuring grammar and vocabulary to make for easy German reading. Just like the above story, this PDF comes with some exercises.

Read PDF via: deutschalsfremdsprache.ch
Other chapters in this series include:
Note: all of these stories come with some exercises, but without an answer key. If you'd like to get the correct answers to all the exercises the owners of this website sell a CD containing all their worksheets plus answers. It's not that cheap but a great way to support the authors of these excellent resources.
The Greedy Dog, by Erasmus Alberus (And Tons Of Other Stories)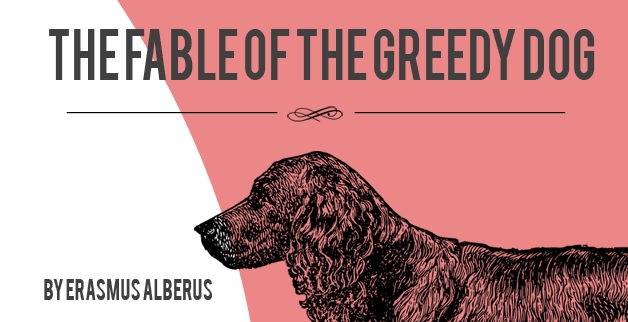 The Carl-Kehr-Schule in Halberstadt offers a content-rich website with tons of easy German short stories in a wide range of categories. You'll find stories about animals, seasons, quizzes, fables, legends, ballads and much more.
While these texts are originally intended to help deaf children boost their vocabulary and reading skills (see my post on Leichte Sprache), they are actually really helpful for German learners as well, since the stories are very short and to the point.
The presentation of the website may look a bit outdated, but don't be discouraged. This is a treasure trove of easy German short stories, all available in convenient PDF format, many of them even with illustrations. The stories are organized according to categories: Märchen (fairy-tales), Sagen (legends), Fabeln (fables), Schwänke (droll stories), animals, and much more.
For example, here's a very short fable entitled "The Greedy Dog", originally by Erasmus Alberus, retold in easy German:

Read PDF via: sos-halberstadt.bildung-lsa.de
And since we're talking about Leichte Sprache, I'd also like to mention Bremen Lebenshilfe, a registered association that is dedicated to helping the mentally handicapped, and their website in simplified German with easy German short stories.
The stories cost a few euros each, but they also provide a free sample which showcases the barrier-free layout and fitting illustrations. While originally designed for people with handicap, I think these short stories can be an excellent way for beginner German learners to start reading.

Read PDF via: leichte-sprache.de
The Citizen Of Schilda Build A Town Hall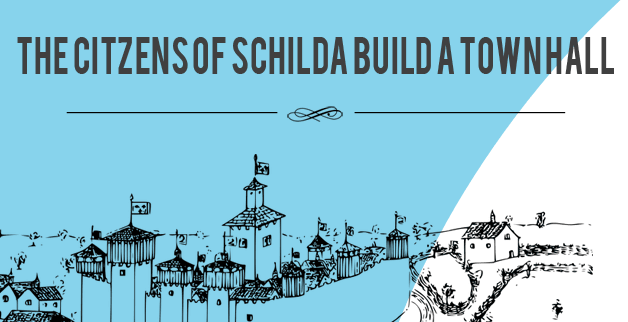 The strange and droll antics of the Schildbürger ("citizens of Schilda") are similar to the Yiddish Chelm stories or the Wise Men of Gotham in the English speaking world and can make for enjoyable reading practice in German.
I've selected the tale of how they built a strange triangular town hall, added in-line translation and found a great narration on Youtube, all of which, including my own re-narration of the introduction to the Schildbürger, you can enjoy right here on the blog.
German Post-war Short Stories
Trümmerliteratur ("rubble literature") was a German literary movement that began somewhere after World War II, dealing with both the literal and metaphorical r7ubble. Taking the American short story as a model, authors of this movement employed very simple and direct language as a way of coming to terms with the new post-destruction reality. They focused on clear and concise descriptions, and cut out a lot of the embellishments of prior literary movements.
It is precisely this simplified language which can serve as a stepping stone for German learners to make their first forays into literary German without getting bogged down in endlessly meandering sentences.
As mentioned in the intro, I've selected and summarized five of these stories for you.
Learn German With Stories: Dino lernt Deutsch
Last but not least, I'd like to point you to my own story series for German learners titled Dino lernt Deutsch. It's about a young man from Sicily who tries to pave his path in the German speaking world, in each episode exploring one city in Germany, Austria, Switzerland and beyond.
These books start out at around the A1/2* level, gently sloping up towards B1/2 over the course of more than 10 volumes. For more detailed information about difficulty levels see the quick start guide. Or you can just dive right in and browse through the PDF excerpts for each book to get a feel for the difficulty level.
You can get the whole series on paperback, Kindle, Apple Books, or as DRM-free MOBI/EPUB/PDF downloads directly from our site, as well as audio editions, flashcards, bonus materials and much more: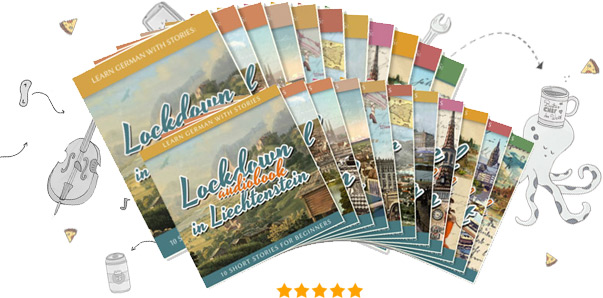 *If you're interested in delving into the technicalities of CEFR and a bit of my general writing philosophy behind these books, also check out this post on my personal blog.
–