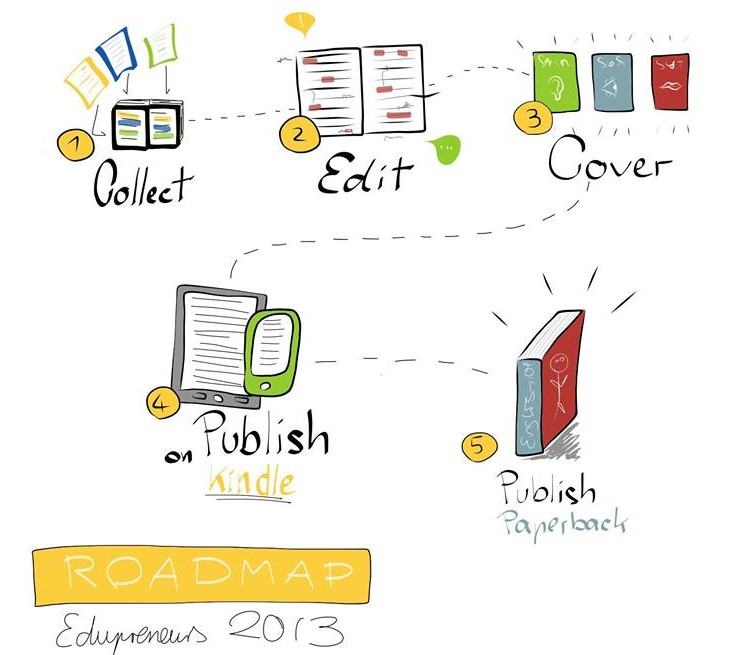 There's something magical about making books. Thanks to the advent of independent or self-publishing, the process has become a lot easier and more accessible.
About one month ago I thought about how to share this exciting experience with more people. Should I write more tutorials about independent publishing? Well, I've already done that, and besides, there are already thousands of good instructions out there. Google and ye shall find!
So I thought, let's do an experiment instead! What If I asked friends and colleagues I know from the (online) education field to write a book together that will help people learn English?
1. What's the Book About
Since I've had a lot of positive feedback about my stories for German learners, so I thought we might try something similar in English. This collaborative book project will contain a collection of stories with vocabulary and comprehension questions, written by you!
The book will be released as ebook and paperback, first through Amazon, later on other online stores.
2. How Does It Work
Each one of you who wants to participate will write a short text (fiction or non-fiction, 500-1000 words), add explanations for difficult words and 5-10 comprehension questions. Also, you have the possibility to add some art or even scribbles.
3. Who Can Participate?
Basically, anyone with above average English skills (not just native speakers) can participate. You don't have to be an English teacher but it helps if you have some teaching and writing experience.
4. What Do Authors Get?
Since this is an experimental project I can't offer money for your participation. However, there are other benefits. First of all, you'll get your name into online bookstores and can point people to a published work or show off a paperback to friends and family. Secondly, each author will appear in the book with picture, short biography and most importantly, links and ways to contact him/her for lessons (if he/she is a teacher) or other services. Last but not least, this project is an invitation to start making books and will hopefully inspire more teachers or budding authors to release their work.
5. Who's Participating?
So far, a number of people from the online education space have signed up. Among them are Sylvia Guinan from sylviasenglishonline.org, Kerstin Hammes from fluentlanguage.co.uk, Michael Gyori from mauilanguage.com, Jason Levine from colloandspark.com, Benjamin Stewart, Chris Workman from learnbritishenglish.co.uk and Mau Buchler from tripppin.com.
6. Okay, Where Do I Sign Up?
If you want to participate, just download this template document and follow the instructions.
IMPORTANT: We're now in the stage of collecting stories. If you want to participate, please make sure to send in your submission until the 15th of July! 
[ Note: We reserve the right not to publish all submissions. ]
UPDATE: This project has ended. Find out more here.
More Information
Benjamin asked me yesterday to have a little talk about this project and we had a lot fun. Watch the video:
Any questions, comments, suggestions? Use the comment form below!