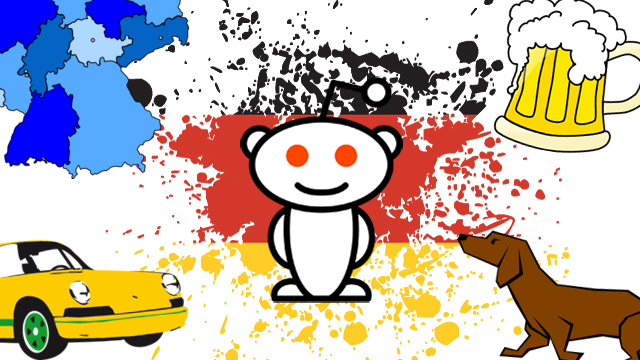 Reddit, aka "the front page of the internet" is one of the biggest social networks and entertainment websites in the world. Reddit is a lot of things, both good and bad, but the way it works is that users submit links, images or text and then its 234 million users vote on these submissions, making them climb up to the front page or vanish in the archives.
There are thousands of different "subreddits" which are like forums for special topics for anything from avocados to zombies. Much of Reddit's content is in English, but there are also quite a few German subreddits. In the following article you can find a small selection.
/r/de – The German Reddit Hub
/r/de is the central subreddit for everything German on Reddit. It's basically a German version of Reddit, so the content here is very diverse. On /r/de you can find discussions about German news, politics, strange and funny pictures, all in German. It's mostly used by natives, but there are also many learners here, so don't be afraid to join the fray!
Subreddits For German Learners

On this subreddit specifically dedicated to German learners you can find discussions about vocabulary, grammar and links to helpful resources. Feel free to post your own questions!
If you're looking for simple German videos with subtitles (either English or German) or just videos that feature slowly spoken German, this is a good place to start your journey.
German Humor Subreddits
Just to get things out of the way, Germans do have a sense of humor, but do you have the German skills necessary to grasp it? Having said that, Reddit can be a great place to find jokes, (un)funny memes and puns.
Here you can find short written jokes in German. So if you're looking for some short reading practice, /r/witze can be a fun place to do some quick comprehension training.
The German version of the infamous English me_irl "selfies of the soul" subreddit.
If you're looking for even shorter jokes condensed into one or two words, have a visit over at /r/germanpuns. Some of them are quite silly, but that's the whole point of this subreddit.
This is basically a German version of /r/MURICA, in short, a place where German culture and self-image is celebrated and made fun of at the same time. Some posts may be a bit stereotypical (yes, Germans love Fußball and Bier) but you can definitely glean some insights into cultural and national identity here.
/r/NichtderPostillon
This place is similar to the English /r/nottheonion where news are reported that sound so silly that they could only be the invention of a satirical news outlet, but (un)fortunately they're real.
Update: the admin temporarily closed this subreddit due to political brigading "until people become normal again".
Subreddits for German Music
Browsing Spotify can be a great way to find new German music, but sometimes it's nice to get recommendations from real people. So put on your headphones, turn up your stereo and head to:
/r/germusic
/r/germanrap
/r/de_punk
Once you found a song you like, pop on back to Spotify, turn on the lyrics and try singing along. Or, if you don't want to be lynched by room mates or family members for singing off key, just translate the song line by line, silently.
German TV, Movies, Audiobooks and Podcasts
"Dokumentation" (short: "Doku") is the German word for documentary. So if you're looking to learn about faraway lands, cultures, science, pseudo-science and conspiracy theories in German, this is the place to go.
Are you a movie nerd or just like to stay up to date on international releases and chit-chatter about actors and directors? On /r/filme you can do all of this, and call it German practice.
Want to learn more about current and upcoming German TV series or just see how Germans talk about American shows? /r/fernsehen is your friend.
Listening to audio books can be a pleasant way for more advanced readers to literally keep the language in your ear while you go about your day. On /r/hoerbuecher you can listen to excerpts (and sometimes full versions) of both classics and contemporary literature.
Talking about listening, there are actually a great number of German podcasts out there, so why not visit this subreddit and add a few more feeds to your list?
Even More German Subreddits
All of the above German subreddits are just the tip of the iceberg. To find more, go to /r/de and check out the sidebar on the right. Sport fans for example might want to check out /r/bundesliga or /r/de_sport. Then there's the German subreddit for gaming and gamers /r/zocken. Also, most major cities have their own subreddits, e.g. /r/berlin and /r/hamburg (complete listing here). And then there are also specific subreddits for Austria (/r/austria) and Switzerland (/r/switzerland). In short, there's a lot to discover. Feel free to add your own personal favorites of German subreddits in the comments below.
–