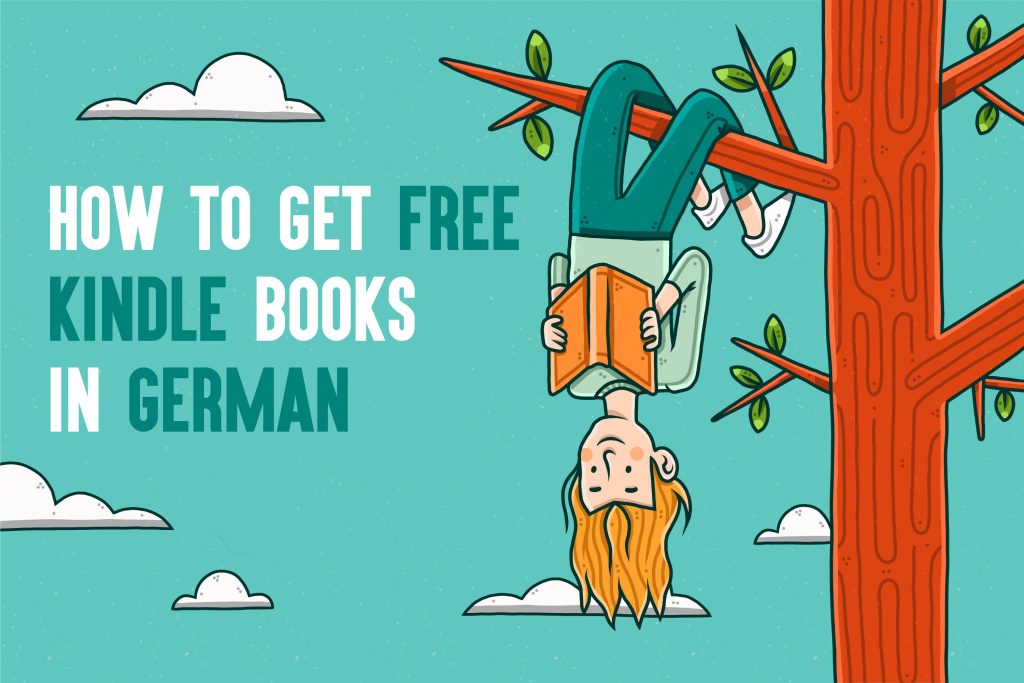 If you have a Kindle e-reader or the Kindle app on your smartphone or tablet, you can use them to learn German or any foreign language for that matter. But did you know there are hundreds of thousands of titles you can download for free, completely legal? Well, you've come to the right place. Below, I'll show you how you can get tons of free German books for your Kindle!
Reading Is A Time-Tested Method For Learning
While these days there are many high quality multimedia materials designed to help you learn German, there is nothing as powerful as letting worlds come alive in your mind by reading in the language you wish to learn. The beauty of this no-frills but highly effective approach is that after overcoming the initial hurdle of seeing foreign garble, the unfamiliarity aspect tends to fade into the background and — as a reviewer of one of my Kindle detective stories for German learners once put it — you forget you were "supposed to be learning".
Stories are a great way to learn languages. They literally change our brain. Learning German grammar can be tedious sometimes, you can only do so many conjugation and declension exercises before eyes glaze over and learning becomes a chore.
Why not use your Kindle to learn German with some entertaining stories?
Note: You don't actually need a physical Kindle device to download and enjoy free German Kindle books. Amazon offers a variety of different apps which allow you to enjoy these books on your smartphone, tablet or desktop.
1. Free Kindle books to learn German: Classic Literature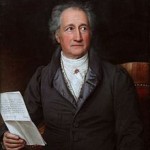 Ever wanted to read Nietzsche, Kafka, or Heinrich Heine in the German original? Well … now you can, and you don't even have to pay a dime! Many literary classics are available both as paid and as free Kindle books in German.
Where's the difference between paid and free German Kindle classics?
When it comes to the text itself, there are usually no differences. The paid versions, however, often come with additional content such as footnotes, explanations, index, etc.
To find the free German Kindle editions of literary classics, head on over to the Amazon section titled Große Werke der der Weltliteratur (great works of world literature) or free short German Kindle classics section. You can find anything here from German translations of English and American classics to works of Nietzsche and more.

Note: If you are only at the beginning of your German learning journey, these books might be too difficult for you. While there are great differences of difficulty between the language of Kafka and Goethe for example, the former being much more accessible than the latter, I'd recommend to acquire at least intermediate proficiency before trying to use these classic free Kindle books to learn German.
2. Learn German on Kindle With Modern Bestsellers
Literary classics aren't your thing? No problem, there are tons of free contemporary titles available for free every day.
To find these free Kindle offers head on over to the Amazon Kindle Best Sellers List.
There you will see both paid titles (Top 100) and free titles (Top 100 gratis) from a variety of genres. In order to access free Kindle books in German click on Top 100 gratis.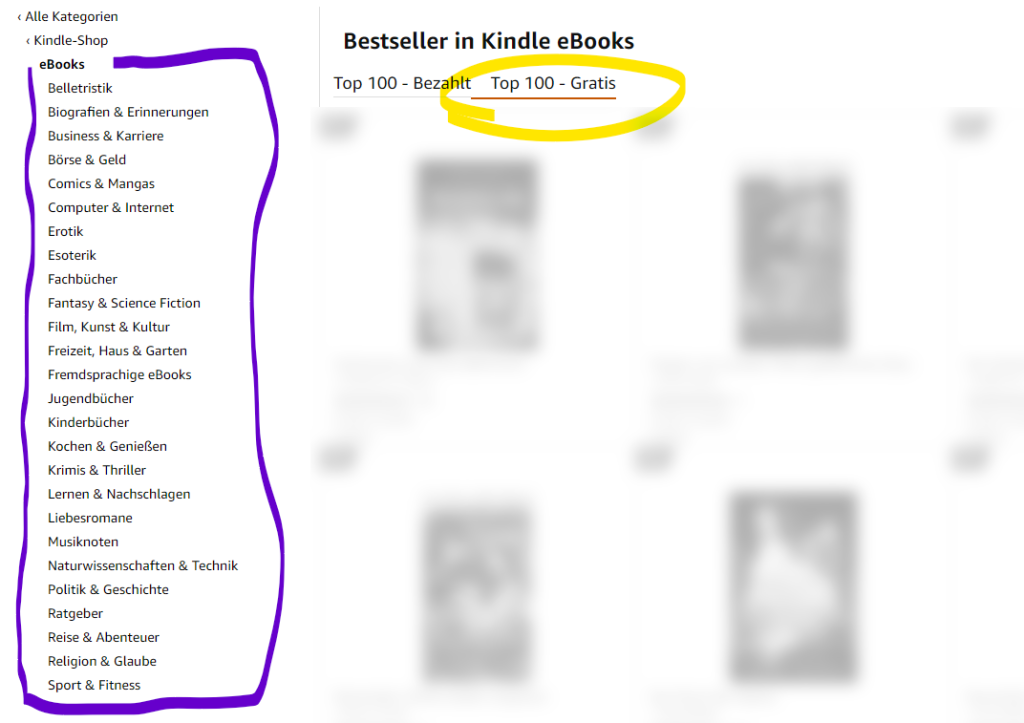 By clicking on the categories on the far left side, you can browse through every possible sub-genre from financial guide books to science fiction, zombie slayer and romance ebooks, all free Kindle books in German. There are even comics, graphic novels and mangas. If you're not exactly sure what these categories refer to, you can also change the language of Amazon.de to English so it'll be easier to parse. Here's how it works:
To change your language preference:
Go to Language Settings or click on the country flag on the top right of the page

Select your preferred language

Save your changes
IMPORTANT INFORMATION FOR NON-GERMAN CUSTOMERS: After selecting one of the free German Kindle books and opening its detail page on Amazon.de, you might see a message that the "title is not available in your country" or something similar. In this case you'll to have to switch back to your default Kindle store (e.g. Amazon.com or Amazon.co.uk)
Here's how you do that:
1. After clicking on a book's title, look at the URL (the address in your browser window) of the book's page you're on:

this is the page of Goethe's Faust: as you can see the .de in your browser's address bar indicates that we're on the German Amazon.

To change that, simply mark or highlight the DE part of the address as shown in the screenshot..

… replace it with COM and hit Enter on your keyboard.

You'll be redirected to the book's page on the Amazon.com store and should be able to download it without problems! The same process works by replacing the DE with CO.UK , FR, ES, IT, etc. depending on where you have your primary Amazon account.
3. Use Your Kindle To Learn German Through Storytelling
Having experienced the power of storytelling in foreign language learning  first-hand, I've written a number of short stories designed as stepping-stones towards learning German with literary classics and contemporary literature.
While these books are not permanently free, I try to make them as affordable as possible and also regularly give away free German Kindle books through my newsletter. Sign up here to find out about new projects and free promos of my German teaching books for Kindle.
Here's a quick overview of the books and series published so far:
Dino lernt Deutsch travel & humor series – LEVEL: beginners
These books are designed to help beginners make the leap from studying isolated words and phrases to reading (and enjoying) naturally flowing German texts. Using simplified sentence structures and a very basic vocabulary, this collection of short stories is carefully crafted to allow even novice learners to appreciate and understand the intricacies of coherent German speech.
Baumgartner & Momsen detective series – LEVEL: intermediate
Wildly popular with readers all over the world, this detective series (currently in its 4th episode) tells the adventures of two detectives, with a special emphasis on idioms and everyday natural language, complete with integrated dictionary and comprehension exercises.
Aschkalon interactive fantasy story for German learners – LEVEL: advanced
This interactive adventure for German learners (currently in its first episode) puts you, the reader, at the heart of the action. Boost your grammar by engaging in sword fights, improve your conversation skills by interacting with interesting people and enhance your vocabulary while exploring forests and dungeons.
4.  Use A Dictionary To Help You Learn German With Kindle 
Whether you're learning German with classic literature, contemporary stories or German teaching books, there will always be unknown vocabulary. Instead of balancing a heavy tome on your knee or absentmindedly scrolling through an online dictionary on your smartphone, you can use a dictionary on your Kindle to help you learn new German words.
I've written a detailed tutorial where to obtain German dictionaries and how install them on your Kindle device: learnoutlive.com/how-to-use-your-kindle-to-study-a-foreign-language
What are you waiting for? Don't fall out of the story each time you need to look up a word — use a custom dictionary to help you learn German with Kindle books!
Happy Reading & Viel Spaß!
–