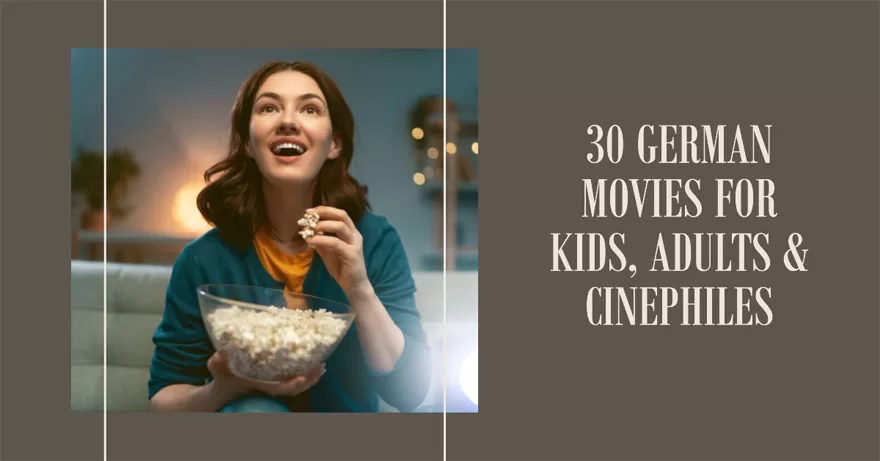 Learning German with stories is an effective and fun way to practice and enjoy yourself at the same time. Learning German with movies is another excellent strategy for immersion.
Today, I'd like to present a number of German movies for learners (in no particular order). Where available, I've added vocabulary and exercise resources to help you make the most out of using these movies in your German studies.
10 German Movies For (Young) Adults
Das Leben Der Anderen "The Lives of Others" (2006)

 8.5/10

 Quizlet Vocabulary
Set in 1984 East Berlin, an agent of the secret East-German police (Stasi, short for Staatssicherheit) conducts a surveillance operation on two young artists, becoming preoccupied with the couple's personal life. This award-winning drama movie is rich with engaging dialogue, convincing characters and a tense plot.
Since the dialogues are sometimes long and key to understanding, turning on subtitles might prove to be essential for most learners.
Das Experiment "The Experiment" (2001)

 7.8/10

 Quizlet Vocabulary
Based on the 1971 "Stanford Prison Experiment", this is a story of a team of researchers re-creating prison conditions in a laboratory. Twenty men are asked to play the roles of prisoners and guards over a period of two weeks. But it's only so long before the participants become overly engrossed in their play, and the boundaries between reality and role-play slowly come apart.
Albeit the film's somewhat dark theme, its plot is rather easy to follow due to the very clearly defined roles and setting.
Die fetten Jahre sind vorbei "The Edukators" (2004)

 7.5/10

 Quizlet Vocabulary
A group of young Berlin activists are breaking into rich people's homes, rearranging furniture and leaving obscure notes to make them feel insecure. When one of the affluent home-owners returns unexpectedly, the activists find themselves hatching out a make-shift kidnapping plot.
Since the protagonists are all in their late 20s this movie is a good way to get into colloquial speech.
Goodbye Lenin (2003)

 7.7/10

 Quizlet Vocabulary

 Deutsche Welle worksheet

 Exercises by Tyskforlaget.dk
It's 1990. The Wall has fallen. The protagonist's mother has just awoken from a coma, unaware that her beloved German Democratic Republic is not existing anymore, and he soon finds himself creating an elaborate fantasy to convince her that everything is still as it used to be.
This film is not only a great way to learn about Germany's split and reunification from a personal perspective, it also features some sections where the protagonist narrates the action on screen, which is helpful for following the plot.
Lola rennt "Run Lola Run" (1998)

 7.8/10

 Quizlet Vocabulary

 Goethe-Institut Arbeitsmaterialien [PDF]

 Exercises by University of Michigan [DOC]
A young German woman has exactly 20 minutes to raise 100,000 Deutschmarks to protect her boyfriend who has fallen in with the wrong people. This fast-paced (and often strange) movie is set against the background of Berlin and re-tells the same story in different ways.
This movie can be a good starting point for discussions in a learning group due to its alternative narratives.
Knocking on Heaven's Door (1997)

 8.0/10
Two patients in a hospital discover they are terminally ill. Sharing a tequila bottle, they realize that one of them has never seen the ocean. So they escape from the hospital and steal a car, driving it towards the German North Sea coast, unaware that the car's trunk holds one million in cash whose owners are not to be trifled with.
While the actors are sometimes mumbling a bit, the plot is easy to follow and dialogues are full of common patterns of speech.
Baader Meinhof Komplex (2008)

 7.4/10

 Quizlet Vocabulary
Starring many popular German actors, this movie, set in West Germany during the 60s and 70s, tells the story of the radical-left militant group Rote Arme Fraktion, illuminating their protagonists' motivations, denials and complications. It's both political thriller, psychological drama, and certainly worth a watch to better understand this sad and difficult chapter of German history.
Der Himmel über Berlin "Wings of Desire" (1987)

 8.1/10
This is the original film Nicolas Cage's "City of Angels" was based upon. The story is the same: an angel falls in love with a human woman, but in order to love her fully, he has to descend from his angelic status. Director Wim Wenders does a beautiful job of creating context and poetic atmosphere.
The relaxed pace of the movie and use of voice-over internal monologues makes this classic approachable for learners.
Auf der anderen Seite "The Edge of Heaven" (2007)

 7.9/10

 Quizlet Vocabulary
When widower Ali convinces the prostitute Yeter to move in with him, his Son Nejat is irritated. Onlly when Nejat finds out that Yeter regularly sends money to her daughter Ayten, he begins to show compassion. After Yeter's sudden death, Nejat decides to fly to Turkey to look for Ayten, whose trace leads back to Germany.
The narrative style of this movie is very visual which allows to follow the storytelling even if you don't understand each word.
Hitlerjunge Salomon "Europa Europa" (1990)

 7.7./10

 Quizlet Vocabulary [2] [3]
In the early days of WWII, a Jewish boy is separated from his family, poses as a German orphan, is accepted into Nazi society where he's celebrated as a "war hero" and eventually made a Hitler Youth. This movie, based on a true story, has a bitter-sweet touch of both drama and comedy, which ultimately culminates in a very unusual perspective.
10 German Movies For Kids
German cinema has a rich tradition of producing engaging and entertaining movies for children that not only capture their imagination but also help them learn valuable life lessons. These films often combine elements of fantasy, adventure, and comedy, while also tackling important themes such as friendship, family, courage, and personal growth.
With strong storytelling and memorable characters, German kids movies offer a unique perspective that both entertains and educates young audiences, making them an essential part of the country's vibrant film culture. From animated classics to live-action adventures, German kids movies provide a wonderful opportunity for children to explore new worlds, experience different cultures, and develop a love for cinema.
Let's look at some popular examples. Keep in mind that some of these movies might be more suitable for older children, so it's always a good idea to check the age rating and content before watching with younger kids.
Die Wilden Hühner (2006)

5.9/10
Based on the popular children's book series by Cornelia Funke, this film follows a group of young girls who form a secret club called "Die Wilden Hühner" (The Wild Chicks).
Das doppelte Lottchen (1950)

7/10
This classic film, based on the book by Erich Kästner, tells the story of twin sisters who meet at a summer camp and decide to switch places to reunite their divorced parents.
Die Vorstadtkrokodile (2009)

6.2/10
A film adaptation of the popular children's book by Max von der Grün, it follows a group of kids who form a gang called "Die Vorstadtkrokodile" (The Suburban Crocodiles) and embark on various adventures.
Rico, Oskar und die Tieferschatten (2014)

7/10
Based on the book by Andreas Steinhöfel, this film follows the adventures of two young boys, Rico and Oskar, who become friends and solve a mystery in their neighborhood.
Das Sams (2001)

5.7/10
Adapted from the popular book series by Paul Maar, this film tells the story of a young boy named Herr Taschenbier who meets a magical creature called "Das Sams," which has the power to grant wishes.
Lauras Stern (2004)

6.2/10
This animated film is based on the children's book by Klaus Baumgart and follows the story of a young girl named Laura who finds a fallen star and helps it return to the sky.
Die Drei ??? – Das Geheimnis der Geisterinsel (2007)

4.6/10
Based on the popular German children's detective series "Die Drei ???" (The Three Question Marks), this film follows the adventures of three young detectives as they solve a mystery on a mysterious island.
Wickie und die starken Männer (2009)

5.6/10
A live-action adaptation of the popular animated TV series, which itself is based on the children's book by Runer Jonsson. It tells the story of a young Viking boy named Wickie who uses his intelligence to solve problems and help his village.
10 German Arthouse Movies
German arthouse cinema has long been recognized for its innovative storytelling, thought-provoking themes, and powerful visual style. These films often delve deep into the human experience, exploring complex emotions, societal issues, and philosophical questions that challenge audiences to think critically about the world around them.
With a rich history that includes the influential German Expressionist movement of the 1920s and the New German Cinema of the 1960s and 1970s, German arthouse movies have shaped global cinema with their unique perspectives and groundbreaking techniques.
From the works of legendary directors like Werner Herzog, Rainer Werner Fassbinder, and Wim Wenders to contemporary talents like Fatih Akin and Maren Ade, German arthouse cinema continues to push boundaries and offer thought-provoking, enriching experiences for cinephiles around the world.
Systemsprenger (System Crasher) (2019)
Directed by Nora Fingscheidt

7.7/10
The film follows a 9-year-old girl named Benni, who has severe behavioral problems and is repeatedly expelled from foster homes and special schools. As she navigates the German child welfare system, her caregiver Micha tries to find a permanent solution for her, despite the many challenges they face.
Paris, Texas (1984)
Directed by Wim Wenders

8.1/10
Travis, a man suffering from amnesia, reunites with his estranged brother after being missing for four years. Together, they embark on a journey to reconnect Travis with his wife and son. Although directed by a German director, this film is in English and not originally in the German language.
Das weiße Band – Eine deutsche Kindergeschichte (The White Ribbon) (2009)
Directed by Michael Haneke

7.8/10
Set in a small German village just before World War I, the film explores the impact of a series of mysterious and violent events on the community. The story exposes the strict moral codes, repressed emotions, and hidden cruelties within the village that may have contributed to the events.
Die Ehe der Maria Braun (The Marriage of Maria Braun) (1979)
Directed by Rainer Werner Fassbinder

7.7/10
The film follows Maria Braun, a woman in post-World War II Germany, as she navigates personal and political challenges to survive and prosper. After her husband goes missing during the war, Maria becomes involved in various relationships and business ventures, eventually leading to a dramatic confrontation with her past.
Victoria (2015)
Directed by Sebastian Schipper

7.6/10
Filmed in a single continuous shot, this crime drama follows a young Spanish woman named Victoria who, during a night out in Berlin, becomes entangled with a group of men planning a bank heist. As the night unfolds, Victoria is drawn deeper into their dangerous world.
Toni Erdmann (2016)
Directed by Maren Ade

7.3/10
This comedy-drama explores the relationship between a father, Winfried, and his career-focused daughter, Ines. Disguised as the eccentric character Toni Erdmann, Winfried attempts to reconnect with Ines through a series of pranks and unexpected visits, leading to moments of hilarity, poignancy, and self-discovery.
–