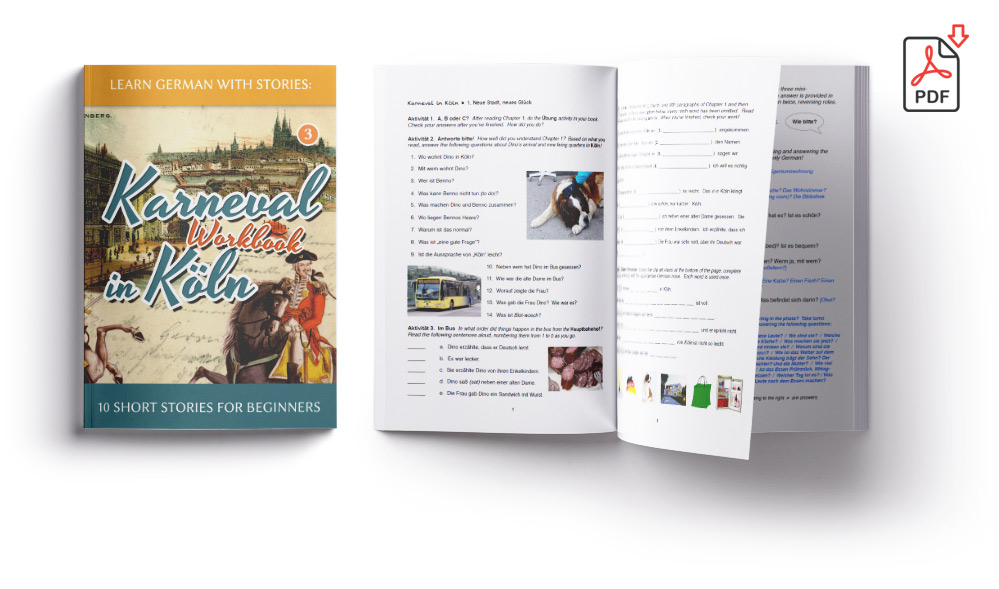 Good news, everyone! Jeff Richards and I completed another workbook for the Dino lernt Deutsch series. This time we're bringing you another 60+ pages packed with exercises, writing prompts, crossword puzzles and other activities for Karneval in Köln.
As with the previous two workbooks for Café in Berlin and Ferien in Frankfurt this comes to you completely free, in digital-only PDF format, ready for printing or just working on it with your tablet and stylus.
In order to get this (and the other workbooks) simply subscribe to our free newsletter. If you're already subscribed, you should already have it by now!
If not, just hit the button below and  you'll get the Café in Berlin workbook first and then every few weeks the next workbook will land in your inbox, fully automated. Unless you want all of them together, in which case, just reply to the first email and we'll hook you up.
As a little taster of what's to come, Jeff also created a couple of exercises around a classic song which is played around the Cologne Carnival. The song is called "Der schmucke Prinz" and while it may not be everyone's cup of tea musically speaking, it's really a great way to immerse yourself in this strange tradition.
You don't have to love marching band music for this. But, I guess … it helps?
The Carnival Season (also known as the "fifth season") officially starts on 11/11, so now is actually a good time to start preparing.
Kölle Alaaf!
–