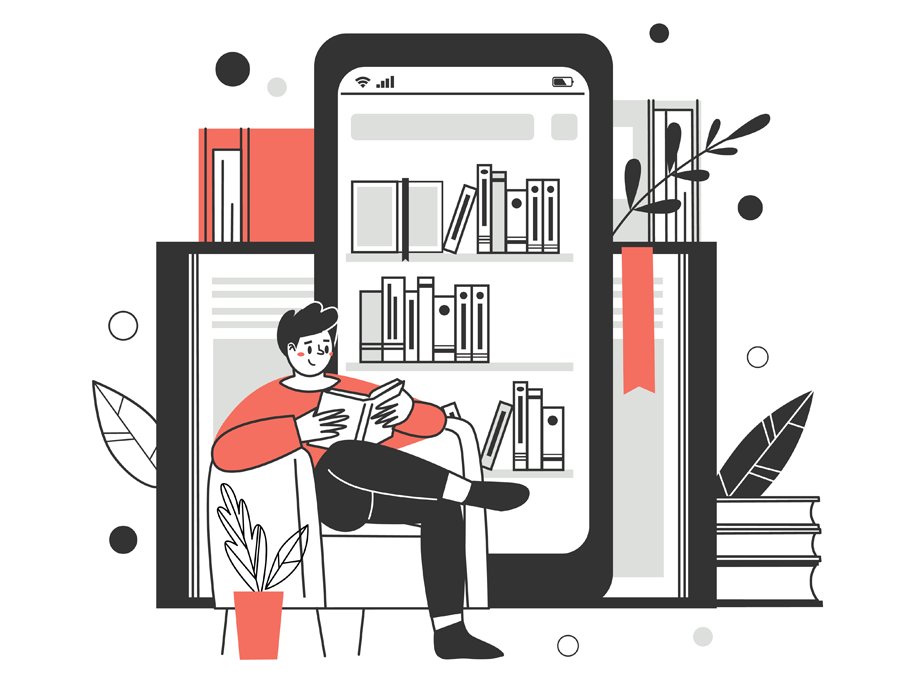 One of the best ways to acquire new vocabulary and see all the bits and pieces of German grammar in the wild, while having enough time to take it all in, is reading books in German. You don't have to fiddle with rewind controls or beg your conversation partner to please slow down — you can just read that one bewildering word or sentence as many times as you please.
Some people are bound to rush off to the book dealer of their choice and immediately lug home all 7 tomes of the Harry Potter series, but others may want to exercises their reading muscles first on some freely available materials.
In this article, I've collected a couple of excellent sources across the web where you can download German ebooks in different formats (PDF, EPUB, MOBI, etc.) for free, no questions asked. Ebooks can be a great tool for language learning, whether on the Kindle or ereader apps.
Many of the titles on these sites are literary works from the public domain which use archaic vocabulary and grammar. If you're looking for ebooks specifically designed for modern German learners, please check out our
German readers
for beginners and intermediates.
feedbooks.com

Feedbooks is a digital ebook store which offers quite a few freebies as well, and you can download EPUB files directly, no registration require. If you're visiting from a non-German-speaking country, they may show you their English catalog by default. In order to switch to the German version, use the "German" link way at the bottom of their website, or make sure to turn on the German filter when browsing categories.
Their free ebooks are split into two categories: Public Domain ("gemeinfrei) or Original Works. The first is split into two major sub-categories: Fiction, which contains titles such as Kafka's Die Verwandlung, Stefan Zweig's Schachnovelle and Swift's Gullivers Reisen — and Non-Fiction, where you'll find some classic philosophical works by Arthur Schopenhauer and Immanuel Kant.
UPDATE: The site recently went through a redesign which seems to have broken the category link structure. Unfortunately, they also removed many public domain titles You can still find tons of free German ebooks on the site but you'll have to do a custom search and filtering for price has been disabled. However, if you sort by "Bestseller", free books tend to come out on top.
Zulu Ebooks

Zulu Ebooks is a non-profit website on a mission to support both known and unknown German authors and help readers gain access to a wide range of free ebooks without registration. Most of their ebooks are available in EPUB, MOBI and PDF which means that no matter what device or app you're using, you'll have the right format from the get-go.
Some of these ebooks are Public Domain titles by Rainer Maria Rilke or E. T. A. Hoffmann, but there are also many contemporary works in numerous categories such as: Abenteuerroman (adventure novel), Gesundheit (health), Kurzgeschichte (short story) and many more.
At this point Zulu Ebooks already offers more than 733 ebooks, and their passionate co-creators are constantly adding new ones, so if you're looking for free German ebooks, make sure to pay them a visit.
Project Gutenberg

Project Gutenberg has been around for many years — it was in fact, founded in 1971 (!) — and especially since the 90s, when it first went online, it has become a household name for free public domain ebooks in many different languages.
Their "German shelves" are categorized into: Drama, Kinderbücher, Lyrik, Prosa and Sachbuch (non-fiction). Most of these books can be downloaded as EPUBs, Kindle (MOBI), Plaintext or you can just read them in HTML directly on your phone, tablet or desktop.
Freiszene

Another website which may not be that well-known is freiszene.de ("free scene"). Just like other sources their offer of free German ebooks is a mix of both public domain and contemporary works. Most downloads only seem to be available as PDFs, but to make up for that freiszene also has quite a few free audiobooks (for more free German audiobooks see also here).
Last but not least, they also have a category dedicated to Kindle ebooks which are free on Amazon.
Amazon Kindle

Talking about Amazon Kindle, this is naturally one of the biggest and most popular ebook stores on the planet. But did you know that it's also an excellent source of free German books? Some titles are permanently free, others only temporarily as part of promotions. I've written a detailed guide here how you can get access to all of them.
Bookboon.com

Another interesting source for German ebooks is bookboon, and unlike previous sites, it's not just the usual mix of self-published stories and public domain classics. Bookboon instead focuses on textbooks, i.e. educational materials about different topics. Before you start, please be aware that their ebooks come as PDFs only and downloads require filling in your email (and subscribing to their newsletter).
Having said that, feel free to explore their textbooks about writing techniques, mathematics, marketing, accounting, etc.
The Internet Archive

Last but not least, a website that should never be missing from any article about free online sources for anything is of course The Internet Archive. It offers over 12,000,000 freely downloadable books and texts.
The German selection is slightly smaller, and many of the titles are ancient scanned books or academic papers, others are more contemporary titles which you can borrow for free (requires login). On top of that you can also download quite a few German magazines for free.
All of their titles are available in the widest range of formats. If you've never strolled through the virtual aisles of the Internet Archive, do yourself a favor and dig around for a bit. Due to the sheer amount of stuff, there's a lot of dubious material to wade through, but sometimes you'll find real curiosities such as this dictionary of Pennsylvania German from 1895. I even stumbled over some full-length Harry Potter books in German, but since they're probably not being shared with the author's consent, I won't link to them here.
What are your favorite sources of free German ebooks?
–