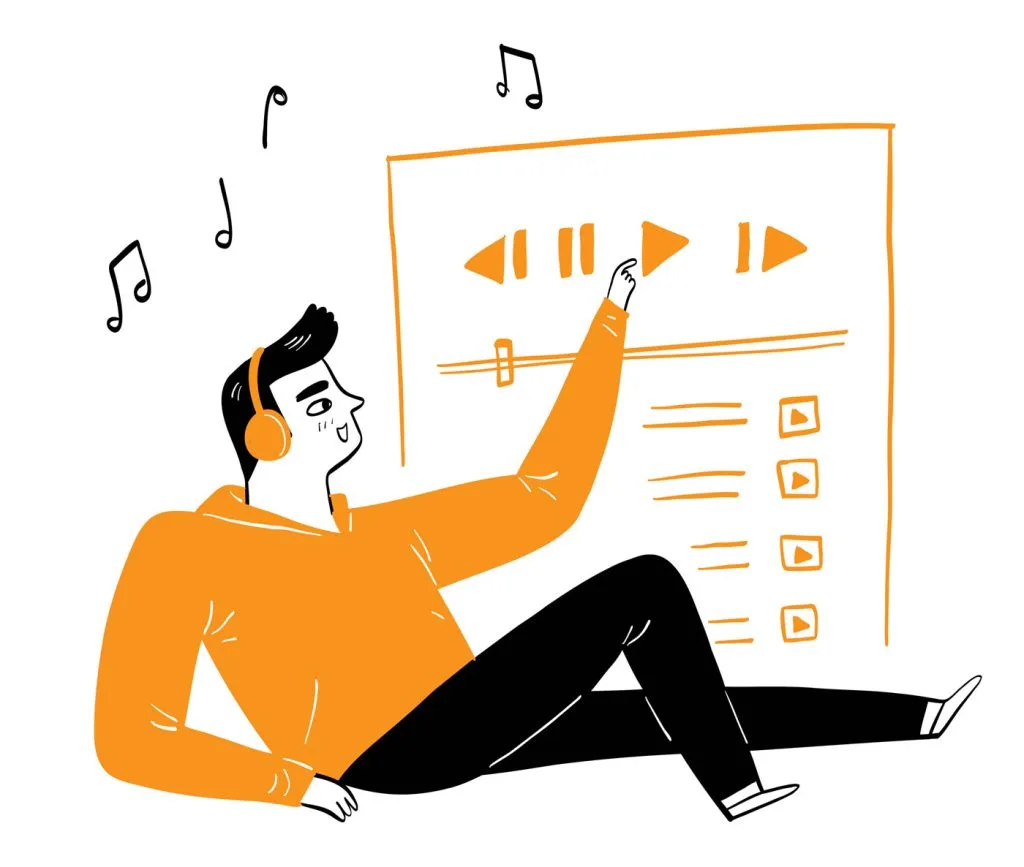 Listening to audiobooks can be a great way to immerse yourself in the language. Even if you don't understand each and every single word, it'll help you familiarize yourself with the sounds and rhythms of the German language.
But there's a problem. It's not that when you search online for audio books in German that there are no results – quite the contrary! There are tons of free German titles that you can start streaming on Spotify, Vorleser.net, Ohrka.de, Youtube and other services — just a few clicks away.
For beginners and intermediate learners however this will often be a frustrating experience, simply because most of these German audio books are designed for native speakers and are either too difficult in terms of grammar and vocabulary or the narrator just speaks too fast! This is why today I'd like to recommend a handful of titles that are relatively accessible for beginners.
If you're looking for audio books specifically designed with German learners in mind, please also check out our
audiobook library
 (free previews available).
7 Simple German Audiobooks For Beginners and Intermediate Learners (Streams & Downloads)
Der kleine Prinz

This German translation of the timeless classic "Le Petit Prince" by Antoine de Saint-Exupéry can be a nice way to get started listening to German narrations, because unlike some classical German literature or fairy tales, this tale gets by without convoluted sentence structures and archaic vocabulary, plus there is a chance you already know the story!
Length: 1:07m
Provider: Spotify
Alternative versions: YouTube
Die Fremde

This story by the Austrian author Arthur Schnitzler tells the story of a man who awakes one morning during his honeymoon to find a goodbye-letter from his wife. In this story Schnitzler uses relatively simple syntax (few multi-clause sentences) and manages to tell a gripping story without too many difficult words. The streaming provider even offers a free PDF download to read along while you listen. The audio files are also available as a free mp3 download.
Length: 0:27m
Provider: Vorleser.net
Alternative versions: Spotify
Die drei Steine

This modern fairytale by German author Paul Maar is a beautiful little story about a mother and a daughter whose father mysteriously disappeared on a journey to America. Since the story was originally written for children, syntax and vocabulary shouldn't prove too challenging.
Length: 0:15m
Provider: Ohrka.de
Die Katzen von Ulthar

This German translation of H.P. Lovecraft's short story "The Cats of Ulthar" is a nicely slow and atmospheric reading of this creepy classic. The sentences are rather short, the story uses basic vocabulary and you can also get a free PDF copy and an mp3 download.
Length: 0:10m
Alternative versions: YouTube
Das Tagebuch der Anne Frank

This unabridged version of the The Diary of Anne Frank is an excellent title to improve your listening comprehension, for a number of reasons. First of all, although the overall diary is quite lengthy, the audiobook is presented in short segments ranging from 20 seconds to about 5 minutes length. This way you can slowly make your way through it without getting too overwhelmed. Secondly, Frank expresses herself in a very evocative but simple way so you won't have to consult your dictionary too often.
Length: 10:33m
Alternative versions: YouTube
Alarm im Uhrenland
"Alarm in Clockland" is a children's story by Georg K. Berres about a young boy who gets curious about what happens when the clocks are turned forward and in the blink of an eye, a whole hour vanishes — when suddenly he finds himself in the midst of a great nocturnal adventure.
Length: 1:5m
Alternative versions: YouTube
Die Schrecken der deutschen Sprache

There is probably no German learner in the world who never quoted Mark Twain's hilarious essay "The Awful German Language". But did you know that Twain also once held a lecture in German titled: "Die Schrecken der Deutschen Sprache"? Strictly speaking, this is not an audiobook of course, but it's a funny and insightful speech by someone who struggled (successfully) with the German language. Highly recommended! (Mp3 download available)
Length: 0:6m
Alternative versions: YouTube