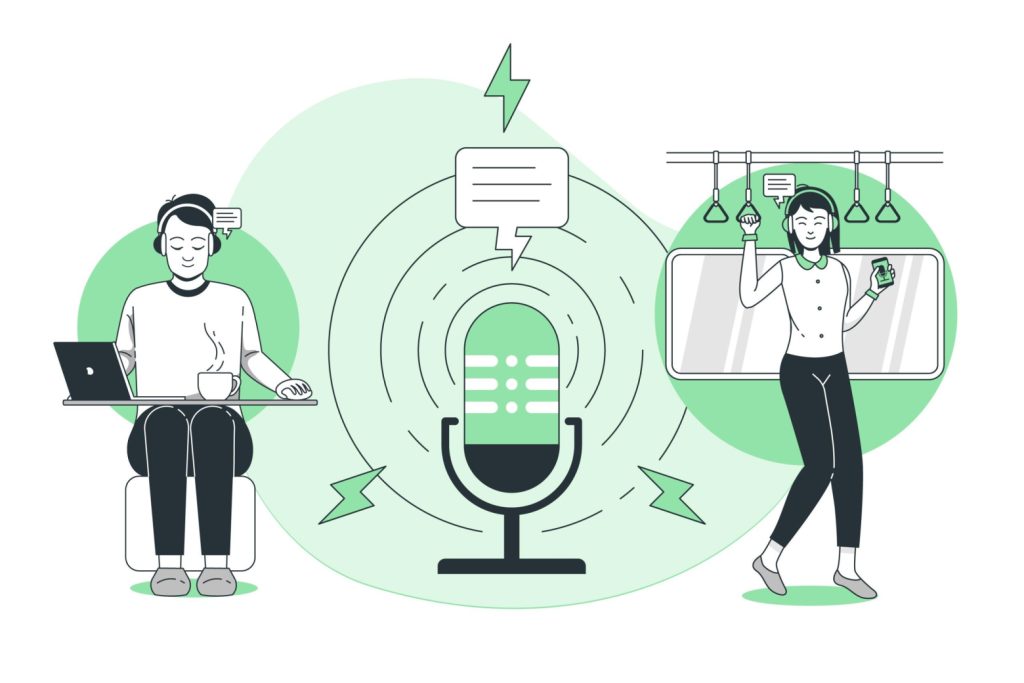 Learning German, whether you're doing it by yourself or with a group, is a fun experience. A new language will enrich your personal and professional life, but no one said it was easy.
Fortunately, the internet has brought us plenty of new language-learning tools, but podcasts are often the most underutilized. However, German podcasts can help you experience complete language immersion as an intermediate or teach you beginner concepts, like pronunciation.
Immersion is one of the best ways to learn any language, which is why receiving instruction from a native speaker can be so rewarding. If you don't have enough free time to take a traditional class or you prefer the convenience of radio, podcasts are a great learning resource.
Why Should You Use Podcasts to Learn German?
English speakers have a big advantage over other native language speakers when learning German: the grammar, syntax, and word pronunciation (but not the spelling) is very similar.
While books, instructors, and language learning apps are great ways to learn German, you'll rarely hear a natural German conversation unless you listen to a native speaker. Some learning platforms, like Lingoda, do hire native language speakers to teach students, but this practice is still rare. If you're interested in taking a class, get started learning German on Lingoda today.
Price can also be a factor when determining the best teaching resource. Not only that, but English speakers often pick up on German grammar rules quickly, which means they may get bored with the repetitive nature of apps. Many give up learning German for this reason.
Podcasts offer the best of all teaching resources because they offer:
Listening requires a different skill set than watching videos or television. A podcast trains your listening ear, which is valuable in everyday conversations.
Podcasts are almost always free on Youtube, but if you already have a subscription to a streaming site, like Spotify, you can listen to podcasts for free.
Language learners have an easier time adopting vocabulary when it's in context. A podcast will help you learn new words in multiple sentences.
Some language resources are so old that they use slang from a bygone era. Podcasts use up-to-date terms and slang that help you sound native.
Thanks to smartphones, you can practice your German while doing other activities, such as driving your car, doing laundry, or at the gym.
The right podcast can either be used as a supplemental tool or a total learning resource. Either way, using different learning mediums to learn German will help you reach fluency quickly.
How Can You Use Podcasts to Learn German?
Just like any other language learning tool, it's a good idea to warm up before you use it. You'll get more out of the podcasts in this article if you prepare. If you're forgetful or you have a hard time building habits, set a reminder on your phone to pack headphones, pens, and paper.
If you want to maximize the learning potential of podcasts, do the following:
Listen to a German podcast whenever you have free time
Create a habit out of it by listening to podcasts at specific times
Be an active user by responding to a question the podcaster asked
Look up some vocabulary beforehand to refresh your German
Have a mix of light/fun and heavy/dry podcasts to keep things interesting
Find a podcast that matches your skill level, from beginner to advanced
Focus on the pronunciation and try to spell new words as you go
Look at the transcript to see if they're speaking too fast or too quietly
Write a review to the creators to practice your writing skills
Record yourself using new words and phrases and play them back
You don't have to use all of these recommendations at once or at all when you start. If you start to feel overwhelmed, it will ruin the learning experience, so start off listening casually.
7 Podcasts That Will Help You Learn German
You're likely convinced that listening to a podcast will help you learn German faster, but what podcast will benefit learners the most?
These 7 podcasts are recommended for all learners.
1. Slow German
Slow German teaches listeners how to speak German by speaking slowly. Host Annik has beginner-level lessons in English and German but also records entirely in German for an intermediate ground. You can also download a German transcript for all their episodes.
2. German LingQ
If you can't eavesdrop in a German cafe, German LingQ is the next best thing. Hosts Vera and Anke will talk about everyday topics, such as shopping or going to the zoo. A full transcript is available after you sign up for a free account, and lessons are geared toward beginners.
3. Learn German by Podcast
This podcast really knows how to capitalize on keyword search terms. Learning German by Podcast does exactly what you think it does. Each podcast focused on an acted-out scene repeated through the dissection of dialog. All episodes include vocabulary lists and transcripts.
4. My Daily Phrase German
Bite-sized podcasts, like My Daily Phrase German, are perfect for anyone short on time. Most episodes are only 5 minutes long, but host Catriona can effortlessly cover everyday phrases, vocabulary essentials, and colloquialisms in that time. By the end, you'll know your basics.
5. Coffee Break German
For a podcast designed for beginners, Coffee Break German manages to help others refresh their German knowledge without being boring. Hosts Thomas and Mark act-out everyday situations, such as walking around town and checking into a hotel, in 30-minute episodes.
6. GermanPod101
GermanPod101 has plenty of episodes suited for different levels and abilities. Hosts Judith and Chuck will perform acted-out scenes while delving into verb conjugations. Their natural chemistry makes them a joy to listen to, especially when they deliver unique cultural insights.
7. Survival Phrases German
There's nothing scarier than being in a foreign country and not knowing how to speak the language. If you ever find yourself in that situation, turn on Survival Phrases German, where you'll quickly pick up essential travel words. The hosts focus on teaching common phrases.–You've been reading a guest post by Nadine Westwood

Nadine is a health coach and writer who helps her clients achieve phenomenal and sustainable results by combining nutrition, fitness, education and fun! She believes primarily in living a happy life, and that the backbone of any lifestyle is that it must be sustainable and enjoyable.