Recently, I've read an article on the BBC about "friend renting", describing a website or service where you can rent a friend for one day for a fee. As weird as this may sound, it is actually a natural development of modern social relationships.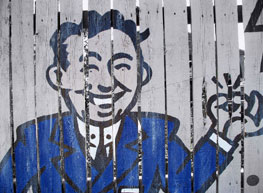 I know, a lot of you are gonna go:"No way! this is so not natural!"
On the other hand you might have noticed that relationships between people are changing. Human interaction used to be largely based on spatial proximity. The people you hung out with used to live in the same village, town, etc. The clubs, parties and religious services we joined were either geographically close or we frequented them because of friends, family or colleagues that were living close to us. For those who haven't noticed yet: Those times are gone!
According to the founder of one of those friend-rental service "it's getting harder to meet people". Unfortunately he didn't say why, but I believe that we're experiencing an explosion of interest-based relationships. Services like Facebook cater directly to that desire of finding new people based on shared interests. The ubiquitous expectation of having something in common from the start may prevent us from "running into" people on the street who will become friends for life. Sure, it still happens. But I feel people are becoming pickier, less willing to make compromises. And one of the reasons for that is that we all are intuiting that we are not anymore dependent solely on those connections that are close to us in a spatial sense. Instead, proximity of interest dominates.
Mark Vernon, author of the book "The Meaning of Friendship" quoted in the above mentioned BBC article said:
'Friend' has become a word we use unthinkingly and it's almost ruined as a result. It started before we had 'friends' on Facebook whom we've never met. But the abuse of this crucial part of human existence surely sinks even lower with the notion that you can rent a friend.
His response doesn't surprise me, at all. I've met a lot of people, that when speaking about making friends or creating professional relationships online fall back to the same lamentations like Mr. Vernon. I'm sure you know what I mean. The joke about the geeky sociopath with 45,4747 myspace friends was fun, at first, illustrating the ludicrous discrepancy between the virtual and RL (real life). On the other hand, while people like Vernon are still lamenting, millions of people are connecting to each other, using the net as a tool, in the same way your granny used a telephone.
Remember when the steam locomotive was invented? People used to say that it's unnatural to move at such a speed. Others said it will make you sick. And yet for others it was simply "The Devil's".
The term technophobia describes "the fear or dislike of advanced technology or complex devices, especially computers." [wiki] And like most fears, also the fear of communication technology is in many ways irrational and without ground.
Yet, the argumentation is simple. The people who are lamenting virtual friendships the loudest are those who imply that those virtual connections will totally replace RL connections, their fear of communicational overkill and brain farms connected with wires shooting way past all borders of sanity.
The underlying false assumption is exactly this: that new technology will completely replace and annihilate what "used to be". The possibility of a co-existence of the old and new to many people is not even an option. Fear dominates. But has the locomotive replaced walking?  No. Has the car replaced the bicycle. No. Have people stopped going to bars, cafés, clubs because of Facebook or Twitter? No. In fact, in many cases you'll find cafes packed with people, many of them bringing laptops.
In the same way, there are friends and there are "friends". I don't believe that we should expect virtual and RL to be the same.
And, although I have never tried "friend renting", nor do I  intend to do this in the near future, I'm not against the idea or concept. What I can say, is that during the last year I made a lot of friends from all over the world by using the tools of communication technology. Those people have enriched my life. They have not replaced connections to my family and friends in RL. Instead, both modes are complementing each other, each making up for the other one's shortcomings, and isn't this what they say about harmony between two: that they complement each other?