Jennifer Nascimento: "Forget those boring textbooks!"
The following interview is part of an interview series in which we feature education professionals from a variety of different fields in order to highlight individual efforts and creative solutions to education in the 21st century. If you want to participate simply write down and send your answers to the five below questions to info {at} learnoutlive.com and include a picture of yourself. (Please note that we reserve the right to not publish all submissions)
1. WHO ARE YOU AND WHAT DO YOU DO IN EDUCATION?
I am Jennifer Nascimento, teacherpreneur, and crazy for cats, traveling, languages, and exploring the endless ways of teaching! I am also the one-woman show running English Outside the Box.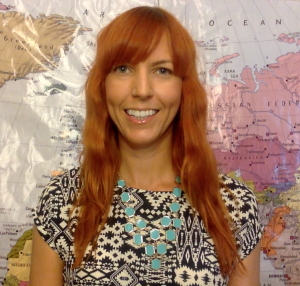 I was bit by the travel bug in 2007 while studying Spanish in San Sebastián (Donostia). I began English tutoring there and have since traveled the world, living and working in Australia, Brazil, and now the States. These experiences have allowed me to continuously evolve my teaching strategies and explore the best way for me to connect with learners in order to give them the most beneficial learning opportunities, which comes from my insane amount of passion and dedication. Tired of being told "how to teach" and feeling that my students were getting the raw end of the deal with outdated, boring material and over-generalized curriculums, English Outside the Box was born.
English Outside the Box is online education that provides students worldwide with the opportunity to improve their English skills outside the traditional methods of language learning. Learning 'Outside the Box' is much more than the obvious fact that we are not in a traditional classroom. Through my communicative methods and personalized learning plans, I help my students achieve what they are set out to do in English. The materials and plans I use are created by me, and utilize authentic English resources to give a REAL English learning experience. Forget those boring textbooks! These classes are supported by the other platforms I use to connect my learners with genuine learning experiences. On my learning blog they can brush up on all skill areas, and then pop over to my social media (Facebook/Twitter) where I share educational infographics, helpful links, etc..and then end on Instagram to see more real English through my (a native speaker's) eyes. I also designed and created "English Pronunciation for Portuguese Speakers", an online course through Udemy.
2. DESCRIBE A TYPICAL WORK DAY IN YOUR LIFE!
The only typical thing that happens in my work day is the delicious cup of coffee that I enjoy in the morning before the "running a new business on your own" craziness begins. Generally I work from home, but also have a few local students I work with 1-on-1. Working from home gives my students the benefit of flexible scheduling, so I am open for lessons Monday-Saturday at a variety of times. I do have those who book the same hours consistently, while my busier students work their lessons into wherever possible throughout the week. I think this flexibility is one of the many advantages of online teaching and learning. As I've mentioned, I am consistently sharing content across various online platforms, so when I am not in a lesson, I am blogging, lesson planning, creating content, writing my new e-book, and always brainstorming which project is next! Outside the educational aspect of my work day, I also keep busy with the behind the scenes administration: networking, marketing, etc..
3. IN WHAT WAY HAS TECHNOLOGY IN GENERAL AND THE NET IN PARTICULAR CHANGED YOUR WORK?
A year and a half ago my students were limited to only those that had the chance to move to San Diego and study at a private institution. Now, with technology and the Internet, I have access to (almost) the entire globe, and connected with nearly 10 different countries just this week. I still remind myself how amazing it is to be able to vicariously visit so many places across the globe through my students and our lessons on a daily basis. With webcams, screen sharing, and other technology, online learning provides the same intimacy as face-to-face learning, with even more benefits! It's hard to imagine that 6 months prior to starting my business I actually tried to get rid of my iPhone, and to disconnect from technology. Now there is no possible way that could happen! I rely on my phone for social media sharing, marketing, and notes on the go; my laptop for when I travel or meet students 1-on-1 locally; and of course my desktop which has already logged many hours facilitating English dreams coming true! The Internet has also allowed me to create and upload video for self-paced online courses, yet another tool accessible for busy learners and valuable for online teachers.
4. WHAT CHALLENGES DO YOU SEE FOR EDUCATION IN THE FUTURE?
As online learning continues to grow in popularity, so does the demand for online educators. This doesn't seem like a negative thing on the surface; however, it can become a challenge when people enter the field for artificial reasons. Teaching has had a notorious reputation for being a demanding job, with a so-so compensation; however, that brought forth the teachers willing to do it, who wanted to make a difference. Now it seems like I am seeing more and more "learn how to get rich by selling a course online" type of ads, which only makes me question the quality that can come from "fast cash" driven motives.  As time goes on, the overall quality of online content could decrease with these money intentions, rather than the desire to make a difference. With that said, I still know the true teachers will get through, as our content will do the talking!
5. WHERE CAN WE FIND YOU ONLINE?
You can check out my website: www.englishoutsidethebox.com
Connect with my learning blog: blog.englishoutsidethebox.com
Experience real English on Instagram: www.instagram.com/jenesl760
Get resources and links on Facebook: www.facebook.com/jenesl760
and Twitter: www.twitter.com/jenesl760