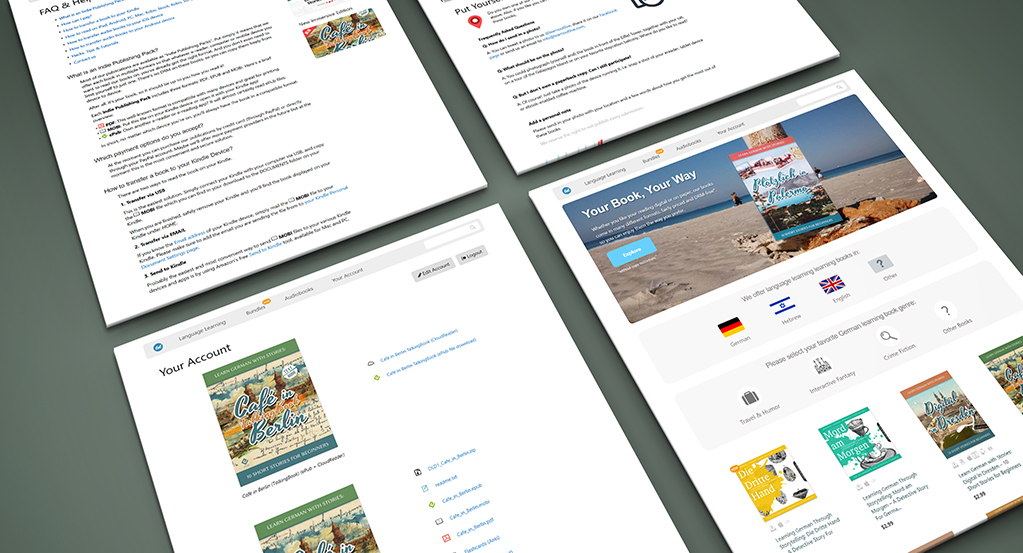 It's the year 2018. We still don't have flying cars, but Wikipedia lists more than 30 different ebook file formats.
As much as I love to read (and create) ebooks, there are so many different competing formats and platforms out there that it can sometimes get a bit confusing.
What's the difference between PDF and ebook formats? Do I need MOBI or EPUB? How do I move a book from my Kindle to an iPad? And why can't all of this be simple? I don't want to fly to Mars! I just want to read!
Don't know what I'm talking about?
Well, if you get your ebooks from one of the Big Stores, such as the Kindle Store or the iBookStore you're lucky, in a sense, because you don't have to deal with any of this. You just click that chunky purchase button and the book automagically appears on your device. *poof*
But! Getting your books from these big stores also means that you have limited control over your purchases. Want to share a title with a friend who's on a different platform? You're out of luck. Feel like quickly copying your book collection onto a thumb drive to secure them for offline use? Nope.
Freedom vs Convenience
Don't get me wrong, I love the convenience of the Kindle Store and I'm reading more than ever, but I also think a customer should have full control over her digital purchases. After all, if you bought it, it should be up to you how you read it, share it, store it, no?
This is why for a couple of years now I've been distributing my books on the Big Stores like Amazon and iTunes, but on LearnOutLive I've also offered you direct access to the ebook files, no questions asked.
But there was a tiny problem.
That's right. File formats. Especially …
ZIP: My Problem Child
I offered all my books as ZIP archives, neatly packaged containers with all the various ebook file formats inside. Turns out though that mobile Apple devices make it nearly impossible to open them.
For example, I've had people writing to me from the airport where they purchased a book from their shiny new iPhone in hope of reading it on their upcoming flight, only to be greeted by Apples ZIPophobia.
But even if your devices were not opposed to that sturdy dinosaur of archives (ZIP was invented in 1989 by the way) some people still found it too cumbersome. And I get it. When we purchase something we expect it to work immediately, no assembly required. (Those big stores sure taught us well!)
For a while now I've been thinking about how to solve this problem. And I believe I've finally found a way to make all of this a bit easier and more convenient while still keeping the freedom that comes with actually owning your own files.
More Choices, Better Design
First of all, when you now make purchases on the book shop, you don't just get a ZIP download, you also get direct access to the contents of said container, i.e. if you're on a device that doesn't like ZIPs, or you just don't feel comfortable with the concept of file systems in general, you can simply pick and open the book directly from your device.
Also, I've made the design of the customer area a bit more user-friendly so you can distinguish the various books and formats more easily.
So, without further ado. Here's how it used to look:
Functional, but not pretty. Aaaand, this is how it looks now:
As you can see, each book download is now listed with its cover image, the original ZIP and all of the contained ebook formats, including the flashcards.
But that's not all!
I've applied the same treatment to all the audiobooks so that if you can't or don't want to deal with ZIPs, you can stream the MP3s right from your browser (internet connection required).
(This is still very rudimentary, but at least it works on all devices I've tested it on.)
Want to check it our for yourself? Go to your account area and log in! Or if you don't own any books yet, perhaps now is the perfect time to fill up that cart. *wink wink, nudge nudge*
Use coupon code EBOOKSHMEEBOOK during checkout to get 20% off (valid until 31st October).
–
This post originally appeared on the Learn German with Stories newsletter