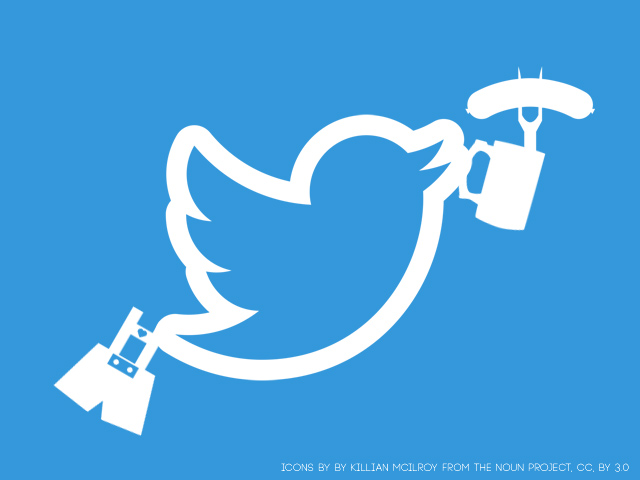 Twitter is infamous for being a procrastination device, but it's actually a great tool for learning languages. No, really! Learning German with ancient grammar tomes is all fine and dandy, but there's nothing like getting daily mini-doses of vocabulary, idioms and other learning materials sent right onto your smartphone or tablet. Here are a few twitter feeds (with selected tweets) that we think might be helpful for German learners:
Was passt in die Lücke? Anstatt ___, bin ich extrem schlecht gelaunt. a) ich bin zufrieden b) zufrieden zu sein c) dass ich zufrieden bin

— DW – Learn German (@dw_learngerman) 7. Mai 2014
This is the twitter feed by Germany's international broadcaster "Deutsche Welle" and their amazing (free) German learning program. A must-follow for all learners!
Bavarian Dialect #pechakucha http://t.co/1qrUy67XOF #German?

— UW German (@uwgerman) 28. März 2014
The Department of Germanics at the University of Washington's twitter feed is a great place for learning about German culture, society, arts and history.
Oh, you green nine! Ach du grüne Neune! Good grief! / Oh, dear!

— German Quatsch (@GermanQuatsch) 5. Mai 2014
Very amusing feed full of German words and sayings with their literal translation.
das Vorstellungsgespraech = interview das Arbeitspraktikum = work experience die Erfahrung = experience der Lebenslauf = cv

— Bablake German (@BablakeGerman) 5. Mai 2014
Follow the twitter feed of the Bablake German Department to get links to resources and vocabulary (with English translation) in tweet-sized bites.
Endlich mal eine Wohnung, in die der Makler nicht mit einzieht! pic.twitter.com/7ukpt5j6UN

— Juliane Topka (@Sprachpingel) 7. Mai 2014
Not specificially targeted at language learners, this twitter feed by Juliane Topka shares funny mistakes and misunderstandings in German.
Wie bilde ich das Datum auf Deutsch? http://t.co/s2ulyuchjr

— Kirsten Winkler (@DeutschHappen) 31. März 2014
On the official twitter feed of Kirsten Winkler's Deutsch Happen project, you'll find German recipes, links to videos, articles and more about German culture, language and general study tips.
This twitter account by the German Department of St. Mary's College in Dundalk shares helpful tips, translations and exercises from around the Twitterverse.
das Niveau =level /standard /quality #DailyDeutsch #German

— Colin Silcox (@colinsilcox) 1. Mai 2014
German learner Colin Silcox uses Twitter to share German words and expressions, and links to articles and other resources.
Die Brücke. pic.twitter.com/AersCDOObv

— slowgerman (@slowgerman) 19. April 2014
This is the twitter feed of the "Slow German" podcast, posting daily vocabulary with English translation and an image.
If You're Happy & You Know It auf Deutsch: http://t.co/ATtlEBfLHy The stomping part makes me giggle. Every time. #noshame

— Herr Antrim (@MrLAntrim) 28. April 2014
This is the twitter feed by German teacher and YouTube puppeteer Herr Antrim. Follow for helpful German learning resources and news around Germany and German culture.
'Anfang vom Ende der DDR': Ulrike Poppe recalls East Germany's electoral fraud on 7th May 1989 http://t.co/0w9aVuETmu via @rbbinforadio

— German at Portsmouth (@GermanAtPompey) 7. Mai 2014
Follow the twitter feed of the German study program by the University of Portsmouth to find daily articles and other links about Germany, German culture, history and language from around the web.
Wort des Tages: DE: der Feierabend / EN: time when you finish work (lit. "party evening")/ Bsp.: Wann hast du Feierabend? -Um 16.30 Uhr.

— German at Hallam (@GermanAtHallam) 7. Mai 2014
In this twitter feed of the German study program at Sheffield Hallam University you'll find a daily "Wort des Tages" with English translation and example, and other funny and/or helpful tweets around learning German.
Sie lernt ___ die Prüfung. a) an b) von c) um d) für #Deutschlernen

— DeutschAkademie (@deutschakademie) 29. April 2014
This is the official Twitter account of the Deutschakademie, tweeting daily German learning exercises (and solutions). Very good way to get some daily practice.
unter dem Ladentisch – under the counter #dailydeutsch

— LearnOutLive German (@_learn_german) 4. Mai 2014
Last, but not least, this is our own twitter feed for German learners on which we post articles about German learning from this blog, daily vocabulary, idioms and much more.
This was just a small selection! There are many great Twitter feeds for German learners. Which ones do you find helpful in your studies? Tell us in the comments!
–
icons in image: by Killian McIlroy from the Noun Project CC BY 3.0