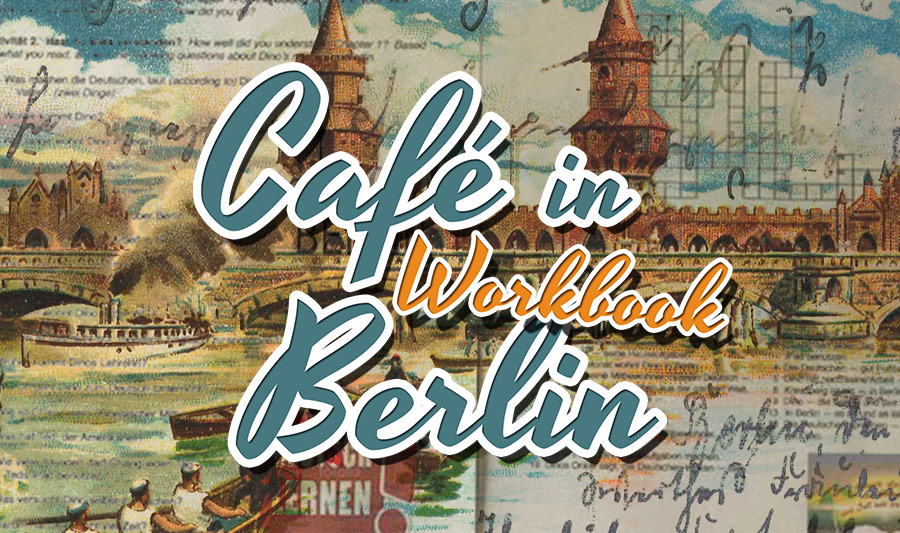 Café in Berlin is the book that started the Dino lernt Deutsch series, and it remains one of my most popular German story books to date. It has been an Amazon bestseller for many consecutive months, topping the charts in multiple categories, from German Language Instruction to General German Fiction and German Travel.
I get many emails from teachers and (online) learning groups from all over the world who are using this book (and the following episodes) in very creative ways.
Café in Berlin Workbook – Free PDF
Jeff Richards from the Sioux Falls German Group has been working on an amazing workbook for Café in Berlin. It was originally intended for use in his local German classes, but when I asked him if he'd be willing to share it with you guys, he generously agreed.
Jeff has an extensive background in language teaching and publishing, so this volume is quite a treat, containing more than 60 pages of useful exercises, activities, crossword puzzles, writing exercises, conversation prompts and much more. Also, over the past week Dr. Kristin Kuchenbecker, Jeff and I went over each activity together to improve, clarify, correct and make sure that everything is in top shape.
And you can download the workbook below, for free!
APPLICATIONS
Jeff even sent a few photos including instructions on how to read/print this excellent workbook:
These files may successfully be viewed on the screens of portable devices and/or computers.
If hard copies are desired, the pages may be run off on attached printers. While they may be printed as single-sided copies, it is preferable to duplicate them in 2-sided format. The documents were prepared in "Facing Pages" layout with the inside margins being slightly larger to accommodate paper hole punching or binding.
–