After LearnOutLive's recent article on the pitfalls of being an online teacher highlighted just a small part of the challenges faced by teachers who choose to go for unconventional methods, I started thinking about independent teaching. Being a tutor, a teacher and an instructor is in every human's hardware just as much as being a learner is (Sylvia Guinan summed it up on Wiziq recently). So when a human being is immersed in learning and teaching, this has got to be a beautiful experience.
Yet I find that having decided to offer my classes independently, I took on its drawbacks too. Do you recognise these?
I have to work harder to find a support system than a school teacher does.
I rely on testimonials, word of mouth, google results and my own advertising campaigns to earn a living.
It is not uncommon to find that larger organisations will take a sole trading professional in language learning a lot less seriously than a school teacher, so the independent business life is not for anyone craving political influence.
Not lastly, the global competition is significant and sometimes we'd all surely like to trade in 70% of our waking hours for a secure payslip at the end of the month.
Ultimately, being a successful online or private or independent educator takes more than just a love of teaching, an urge to improve the world or a lot of subject knowledge. We have a business to run, and advertising to do. And most importantly: Every student who chooses to study with an independent trusts that they will receive the attention and commitment from us that they deserve. Fulfilling this responsibility is what makes us a great choice for anyone wishing to learn.
Here are three reasons why I believe students will get the best out of choosing me as their tutor. I urge you to consider if they apply to you, too, and to be really proud of them. Would you advertise these reasons?
1) I go at the learner's pace
In private lessons, one of the core benefits for every student is that they can benefit from the full attention of their teacher. Where a mistake keeps cropping up repeatedly, it's easier to provide targeted exercises and work together so that these particular weaknesses are addressed quickly.Where a self-taught course fails you in terms of giving a new way of explaining something complicated, the private tutor knows that this is their job and will not tire of providing examples
2) I know about exams, but only care about exams if my students do.
Private tuition means learning at the right pace, having a lot of fun and being free from the pressure of a curriculum, but sometimes nothing will lead you around a standardised test – this could be because you are showing proof of your skills for someone else, but is also a beneficial goal for self-taught learners who want a challenge. From TOEFL to Goethe Zertifikat, independent tutors like me are not locked into a specific system and will be able to advise on the best exam, give you an honest view its suitability and come up with a learning plan that starts with your requirements, not anyone else's.
3) I am dedicated to student satisfaction
I work really hard on coming up with fresh exercises that fit right in with my students' needs, and this means creating a lot of my own learning materials. In addition, I love blogging about language learning and use this to show off my knowledge and expertise on the subject. From analysing pop songs to organising class auctions, it's always important to me that every learner feels they are learning language in use as well as in theory.
I would love to hear why you are an independent teacher, and what your pitches are. Why will a learner have to choose YOU?
–
photo:  Some rights reserved by g_firkser



You've been reading a guest post by Kerstin Hammes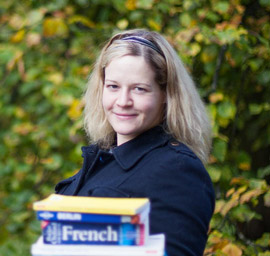 Kerstin Hammes is a native German speaker and has lived in the UK since 2003. She's passionate about languages and has studied English, French, Italian, Latin, Spanish and Russian. Kerstin is the lady behind Fluent Language Tuition and teaches students of German, French and English as a Foreign Language as a tutor and coach. You can say hello to her on Twitter, Facebook and Google+