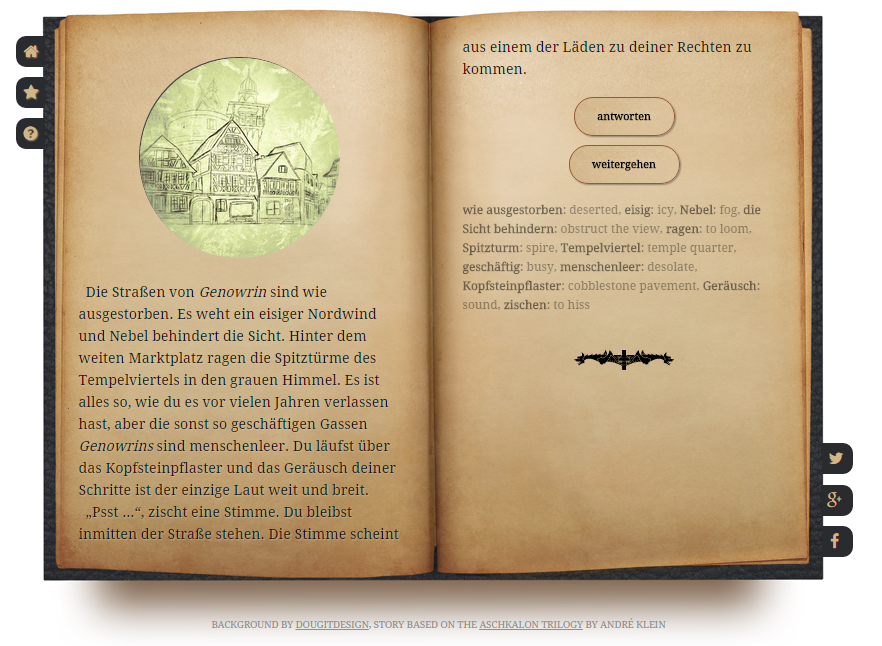 If you've been following our Twitter or Facebook updates, perhaps you've heard that the third and final part of the Aschkalon fantasy adventure for German learners is now finally available as paperback edition.
Now that all three parts are available as electronic and paper editions, I wondered what to do next. First of all,  since some people wished the single episodes were a bit longer I created a complete edition which contains all the episodes in one big book.
From Kindle Edition To the Open Web
And then I thought … wait a second! Now that the whole trilogy exists in one book and since it's written in very basic HTML code which runs in every browser, why not liberate the story from paper pages and Kindle screens and bring it to web-browser worldwide, free of charge?
So, without further ado I present to you the Complete Web Edition of Aschkalon, the interactive fantasy adventure for German learners, free to enjoy on any web-browser. Here's a preview:
As you can see in the video, you get a small dictionary at the end of each scene to help with difficult words, but if you need more help, feel free to use the excellent Lingua.ly browser extension to get translation and pronunciation for single words and add the vocabulary to a flashcard stack for further study.
The whole project is in beta stage at the moment, so any feedback is greatly appreciated. Also, if you find any bugs, broken links, etc. please add a comment under this blog post or contact me directly and I'll continuously improve this (as time allows).
In case you missed it, here's the link again: learnoutlive.com/aschkalon – Read, play, learn, share it with your friends!
–