"Naruto" is not just the name of a popular ninja-centric anime, nor the name of the main character of that anime. This is the story of the "swirl" that appears left and right in that series.
Naruto is also a real-life island: Naruto Island. Naruto is also a straight: the Naruto Strait, where the Seto Inland Sea meets the Kii Channels of the Pacific Ocean. This strait passes between Naruto Island of Tokushima Prefecture and Awaji Island in Hyougo Prefecture.
The tides cause a large amount of water to enter the Inland Sea twice a day, and to exit the Inland Sea once more. The narrowness of the strait causes this water to pass rapidly through the straight, creating tidal whirlpools. These are known as the Naruto Whirlpools. These whirlpools can be twenty meters (sixty feet) in diameter, with the water whirling at a speed of twenty kilometers per hour (12.5 mph).
These whirlpools can be observed from ships or from the Naruto Bridge that spans the strait.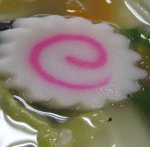 Although the Naruto Whirlpools are famous throughout Japan in and of themselves, they are also the inspiration for the naruto kamaboko, a kamaboko – fish cake – produced with a pink swirl. As the name implies, the swirl is inspired by the Naruto Whirlpools.