Alba Castro: "The human factor is still irreplaceable."
The following interview is part of an interview series in which we feature education professionals from a variety of different fields in order to highlight individual efforts and creative solutions to education in the 21st century. If you want to participate simply write down and send your answers to the five below questions to info {at} learnoutlive.com and include a picture of yourself. (Please note that we reserve the right to not publish all submissions)
1. Who are you and what do you do in education?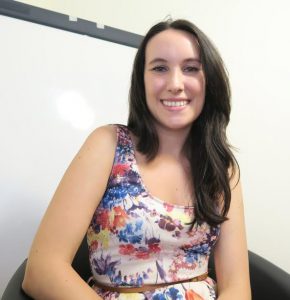 My name is Alba Castro and I teach Spanish via Skype. I studied Spanish linguistics in my hometown in Spain and a PGCE (Postgraduate Certificate in Education) to teach Spanish as a second language in Liverpool Hope University during my time in the UK. I've taught Spanish in Primary school, High School and in College (16-18 years old).
During those years I combined this with private lessons 1:2:1 to teenagers and adults in my home and online, and now that I'm back in Spain tutoring is my main job. And I couldn't be happier!
2. Describe a typical work day in your life!
In the morning I check my calendar, write down a to do list, update payments and emails and get organised for the day. I plan the lessons for the day, send the materials to each pupil prior the lessons, and I send homework afterwards.
I also set time aside to create materials for both my lessons and my blog, as well as posting on my social media frequently. I think the creative side of this job is important, it helps keeping things exciting and personal. I've been playing with editing and I plan on putting up videos soon.
My schedule changes a lot from one day to another, sometimes I'm busy all day, sometimes I only have lessons in the afternoon and evening, sometimes I have lessons during the weekend. In this job, flexibility is a big must so your schedule changes, but I do like that, it keeps me on my feet!
3. In what way has technology in general and the net in particular changed your work?
Technology has made my job possible, I couldn't do it without it. When I was living in the UK I taught lessons face to face and online, but now that I'm in Spain I teach via Skype only. It allowed my students to continue having lessons with me, and allowed me to keep on teaching. For some of them nothing changed (apart from the background!), and all of the students learning face to face adapted to Skype within the first lesson, even those who had never used it before.
I wasn't 100% confident about online lessons myself when I started! However, when I started teaching I realised it was not a matter of the tools used but the teacher and the methods. I've never felt like my online students were getting lessons of a poorer quality, more on the contrary, they were getting the same value but removing the time and expenses that involves going to a lesson.
4. What challenges do you see for education in the future?
Technology is changing everything, and in my case I'm truly grateful for that. However, more and more students choose to learn by themselves, using the bank of resources out there on the internet.
Now, it's fantastic that learning is more accessible to everybody now than ever, but as a consequence, we have two problems: One: teachers are less able to be helping students at a more personal level, and two: the amount of resources is so huge and varies so much in quality that it's difficult for a student to find the right materials to do, and it can't be ensured the student understands the content.
The lack of detailed feedback and guidance is only solved if they count on someone to evaluate their progress and make decisions based on experience. I think the human factor here is still irreplaceable and that those resource websites are an exceptional contribution and an useful tool but are best used  when a teacher is involved.
5. Where can we find you online?
You can find me on vivatutor.uk. Also you can see my blog on vivatutor.uk/blog where I post every week. My content includes grammatical explanations and practice, advice and recommendations on learning Spanish; cultural posts, tips and tricks, videos, presentations and more.
If looking for a general practice I recommend the video-tasks on my blog, which are a 15-25min task and are based on a Spanish short film or commercial, available to all levels.
Last but not least you can find me on Facebook, Youtube, Twitter, Google+ and Pinterest. I'm always happy to solve any doubt or question!
–