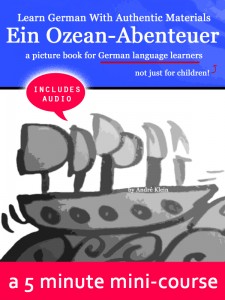 After I published "Peter und das Huhn" last week I was completely mindboggled. It was downloaded hundreds of times within just a few hours and received lots of positive feedback.
What started out as just a little experiment (yours truly listening to punk rock and doodling away like a madman) quickly grew into a serious undertaking when I saw that this stuff actually seemed to help people or at least bring a bit of welcome unseriousness to the sometimes ardous task of learning German.
Therefore, I decided to create a follow-up, this time incorporating all the things learned in the making of the first and integrating constructive feedback from both friends and the general public.
One remark for example was that the pictures could be clearer, and while I'm still no Picasso, I optimized the image digitalization process for more contrast and clarity.
Also, my colleague Louis George Machlan pointed out that he'd like to have some audio for the pronunciation part, so this time I'm proud to present not only a picture book with vocabulary but an accompanying audio, as well!
And before I now talk a bit about the methods & politics of accomplishing this, everyone just interested in getting the goodies, can download it here for the next three days  (update: this offer has expired) (I'd love to make it free for longer, but Amazon only gives me only 5 days in 90 days, so just like Peter und das Huhn, there'll be 2 more days, so make sure to follow us on Twitter.)
Kindle, we need to talk
After having gone overboard a bit with the audio and creating a background soundscape with special effects and imitating the sounds of krakens and exotic sea-birds, I had to start explaining both to myself and my readers how they can listen to the German voiceover. Huh?
If people download the book from Kindle it gets automatically beamed down to their Kindle device or app, right?
Ok, so far so good. Most Kindles have speakers and a headphone jack and they can play audio files. So it should be no problem to just sort of piggyback the audio on the picture book, right?
Wrong…
First of all, there's no way to directly embed audio into the ebook format Amazon uses. Secondly, even if you use the Kindle "experimental" browser to navigate to a homepage with an embedded audio, it refuses to play it.
While I read that once upon a time Amazon allowed integrated media in ebooks, it now seems that it abandoned this for mainly two reasons, one being the precious bandwidth of its Whispersync technology responsible for beaming down the file directly to the device, the other probably having to do with Amazon's trying to separate everything audio and route it exclusively through Audible.
In any case, you'll be happy to know that I found a way for you to listen to the audio even on your Kindle. Both the file and an explanation how to listen, transfer it to your Kindle or computer are included at the end of the ebook, under the vocabulary & pronunciation section.
I'm not sure if I'll ever do this again or how helpful this is for learners, but this is part of the reason why I'm doing this in the first place: to find out! So if you have any input on this, please let me know either here on directly in the Amazon reviews. Thanks!