Victoria: "Teaching and Learning Have Never Been So Accessible and Fun"
The following interview is part of an interview series in which we feature education professionals from a variety of different fields in order to highlight individual efforts and creative solutions to education in the 21st century. If you want to participate simply write down and send your answers to the five below questions to info {at} learnoutlive.com and include a picture of yourself. (Please note that we reserve the right to not publish all submissions)
1. Who are you and what do you do in education?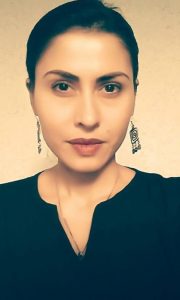 My name is Victoria and I'm an English Teacher. I'm a dreamer which believes that education will make the world a better place to live in. Daily, I try to bring a small contribution into the immensity of the education by doing my best in a creative way. I am convinced that all students are different and they all require a unique approach. And of course, I cannot be everyone's teacher, but for those to which I am, I do my best to help them to achieve their learning goal in the fastest and easiest way possible. The relationship between me and my students is often a friendship in which they feel comfortable to express their thoughts and ideas. This safe expressing environment helps them to grow very fast and become fluent English speakers. I focus on quality rather than quantity this is why I would say that what I do in education is a lot for a few.
2. Describe a typical work day in your life!
I start my day at 5:45 AM with a short training and a coffee, while I drink it I check all my messages and I check my to-do list for the day. My real working day starts at 10:00 AM after I come back from the kindergarten and my whole attention is directed to my teaching and all related to it. The best part of the online teaching is the fact that I travel in several different places during the day. All my students are like opened windows into a new culture. Yes, I teach them English but I also learn from them about their culture, countries, work and life experiences. Is wonderful to start your day in the Organised Germany and end it in the Positive Italy. Usually, my classes are concentrated in the evenings and from 8:00 PM to 11:30 PM I am fully immersed in teaching. At midnight, I can consider my working day closed as I go to bed to recharge my batteries for the next day.
3. In what way has technology in general and the net in particular changed your work?
In general, technologies changed my work in a pleasure. I reach my students in seconds and I have endless resources to share with them instantly. Dictionaries, audio or video materials, books, exercises, articles, images, news, on the internet there is a sea of information which if used properly could become a gold mine for everyone. From my point of view teaching and learning have never been so accessible and fun as in our days and all this was possible through the net. For me, passing to online teaching was a real life revolution, my passion is my work, I work less and I gain more and as a bonus, I have the luxury of extra free time which I dedicate to my personal development.
4. What challenges do you see for education in the future?
I think that Educational Sistem is already challenged in many ways. We all face an avalanche of information and choosing of the right one is the hardest thing. As I see, this is the role of the modern teacher – becoming a guide for the students, helping them trough. In the future, this might be even tougher as internet changed our reality once and for all. There are no more material borders but we must overcome the other ones, those mental borders that still persist in many minds.
5. Where can we find you online?
You can find me on my website: victoriadubasaru.com and leave a message, or
on my Skype: victoria.sitnic *The One from Wonderland ☺
–