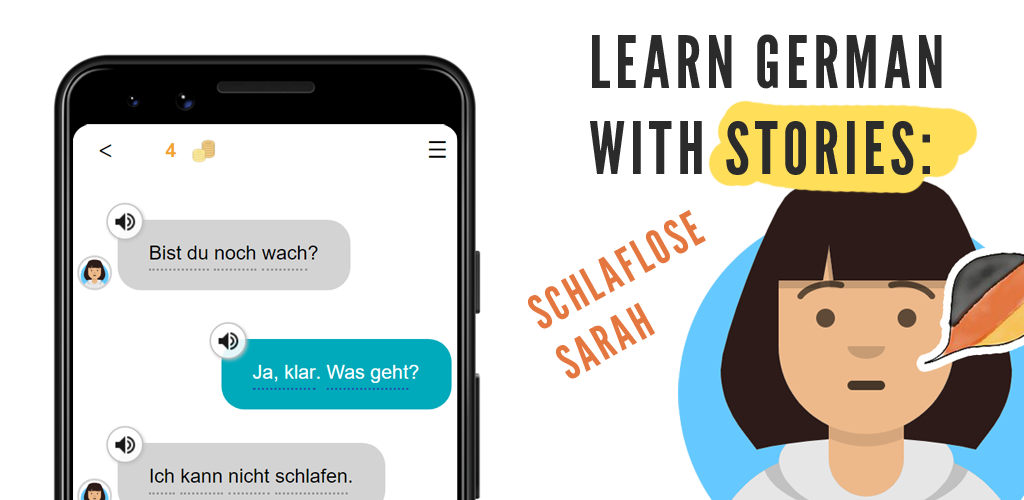 Ever since I first started writing interactive fantasy fiction for German learners back in 2013 I've been toying with the idea of doing something similar in app form. But I had two problems. First of all, the fantasy genre wasn't everyone's cup of tea and also, I didn't have the slightest clue how to program an app.
Over the last few months an idea began to take shape to do a German learning story in messenger format and once I had the core concept nailed down it became easier. I still had no clue how to go about this, but at least the goal was clear. So, I started delving deeper into the world of app development and found a workflow which seemed manageable even for someone with just a Gefährliches Halbwissen* in programming, such as myself.
To make a long story short, over an intensive couple of weeks I cobbled together bits and pieces of code, kept what worked, discarded what didn't. And somehow it all came together in the end! The app is now live on Google Play. And you can get it for free. No ads, no in-app-shenanigans and permissions required. Plus, the whole thing doesn't require internet access and would even work on a lonely island (if you can find a way to charge your phone, that is …)
But what does the app do?
https://www.youtube.com/watch?v=CEDTAbR8qB4
Well, it's all about learning German and storytelling (who would have guessed?). The story is somewhat silly and suspenseful and I don't want to spoil anything but I do hope you'll have as much fun playing through this experience as I had writing it.
Besides enjoying a fun little story in German this app enables you to:
listen to chat messages and practice your pronunciation
tap and translate difficult words to boost your vocabulary
do short comprehension quizzes and collect coins
UPDATE: Since many people asked for an iOS version, you can now get this on the Apple App Store as well.
What about iPhone? Ja, ich weiß …
After wading through the mess of bloated SDKs and proprietary software, I may have found a way to port this app over, but it will take some more time (and monetary commitments) to do this, so if you want to see this app on your iPhone or iPad just let me know and I'll see what I can do.
*superficial knowledge, literally: "dangerous half-knowledge"